Do You Want a Solar Powered Power Station? Here's a Time-Tested Guide
Last Updated on August 27, 2022
Admittedly, most of us deeply love the traditional gas-powered generator, isn't it so? Certainly, we were not always used to the advantages that come with the portable power stations.
After all, gas-powered generators have been around with us for years. And when we lose power suddenly, we know that these machines can do wonders; they can help us get things back to normal.  That's wonderful!
But here's a problem:
Many gas-powered generators are excessively noisy; at the same time, they often emit smelly fumes. What is more- you usually have to set aside a special place to keep them safe. And you know that gas-powered generators can cause extensive damage to the environment.
As such, in recent days, many have resorted to using portable indoor solar generators. The machines come with plenty of advantages. Besides being clean, solar generators are generally easy to use and don't need a fossil fuel input.
Further, as modern technology improves, solar generators have become more affordable; they're now accessible even to those who could not afford them in the past.
So, what type of portable power station is suitable for your apartment?
In this post, we'll get some powerful, practical tips.
Quick Summary of Portable Power Stations and Indoor Generators according to Our Opinion
Jackery Explorer 300 Portable Power Station
🟠Power Capacity 293Wh 
2.5 Hours to Full Recharge: Charging by a 90W wall charger and 60W USB-C PD charger simultaneously, the Explorer 300 can be charged to 80% in only 2 hours. You can also recharge the Explorer 300 via a solar panel, car, or generator
EcoFlow DELTA Max Portable Power Station
Home emergency power

 DELTA Max expands up to 6kWh with smart extra batteries, keeping your home powered on in any emergency. 

Best solar powered generator 

Stay powered on no matter what. DELTA Max connects with up to 2x 400W EcoFlow solar panels to deliver 800W Max solar charging speeds
BLUETTI AC200MAX Expandable Power Station
⚪ Power Capacity 2,048Wh
2,200W AC Pure Sine Wave Inverter (4,800W Surge)
Expandable Up To 6,144Wh with 2×B230, or 8,192Wh with 2×B300
Rockpals 1300W Portable Power Station
🔴 Power Capacity 1254.4Wh
Capable for powering refrigerators, electric blankets, blenders, power tools, electric grills, and any general-purpose appliance, the Rockpals 1300W is your first choice for the outing in all seasons. It includes AC/DC/PD/USB/Car Charge output: 3*AC outputs (Peak 2000W), 2*DC outputs, 2*QC 3.0 fast-charging USB ports and 1 USB port, 1 Carport, 1*PD output(PD can also have input function).
When you make a purchase from one of these links, We may receive a small commission at no extra cost to you. 100% of the fees we collect are used to support our nonprofit mission.
What Does the Terms "Indoor Generator" and "Portable Power Station" Mean?
Yes, what does the term "indoor generator" mean? Some might wonder about this. Well, an indoor generator is an electricity storage device that you can use again and again to power your electronics indoors. This type of generator is otherwise known as a "portable battery power station."
Nowadays, many people use the indoor generator as a viable alternative to the traditional gas generator. We know that the latter can be costly to operate, loud, and unsuitable for indoor activities. Why? To be safe for use indoors, a power generator must have the following characteristics:
It should be fuel-free
Smoke-free
And fume free
How Will You Benefit From Using these Generators?
Do you live in a small property or an apartment? Of course, this means you cannot usually use an outdoor generator. Your best option is the portable indoor generator. This can provide emergency or backup power.
Here're a few more benefits of a portable indoor generator:
Compact
You can easily store the generator in a cabinet or closet and keep it for emergency use. They are also easy to lift, move around or carry when traveling.
Eco-Friendly
You don't need gas to run this generator. This means you can avoid harmful carbon emissions since most are designed for solar recharging. You don't have to depend on the car battery or a wall outlet either.
Suitable for Outdoor or Indoor Use
Portable generators are versatile- they're designed for indoor and outdoor use. This is unlike the traditional gas generator.
Without a doubt, an indoor generator comes with plenty of benefits. Here are other reasons why many are avoiding the traditional gas-powered machine and turning to indoor generators:
You can safely use indoor generators to access power during storms and power outages
They can run your medical devices (like the CPAP machine) at night
They are suitable for indoor emergency power backup
You can use them for boon-docking or inside the camp or tent when the regular power grid is inaccessible
How Portable Power Station Work
The battery is an indoor generator's most crucial part. Generally, a portable power station (or indoor generator) can run your appliances and electronic devices, utilizing its pre-charged battery capabilities.
Indoor generators can power devices with a set of built-in output options. The generators also use a combination of DC (carport plugs), USB (type A or C) ports, and AC wall plugs.
There are three primary methods of recharging an indoor generator:
You may recharge it from a standard AC wall outlet
From your car's DC power port
You can use a suitable solar panel
Pick an Efficient Generator
Certainly, indoor portable generators can be crucial during emergencies when people cannot access other fuel sources. As we know, solar generators use portable or stationary panels to absorb energy from the sun. They subsequently convert this into electrical power, which is safely stored in a battery.
Ultimately, which generator is best?
First, think of it: How much power do you actually need? What amount do you require to run everyday household appliances like TVs, laptops, and other gadgets? If you go out on camping expeditions, how much power do you need for your RV?
All these factors are important.
As a rule, the household refrigerator usually uses between 100 to 400 watts. Hence, calculate your wattage needs. Once you do this, you can purchase a generator that doesn't cost too much yet can power your crucial equipment. Don't pick the most expensive generator- choose the most efficient.
We recently did in-depth research into the subject; as a result, we can confidently recommend our pick of the best portable solar indoor generators one can find on the market in 2022 and beyond.
Consider the following.
The Research
The Goal Zero Yeti 1000 Lithium Portable Power Station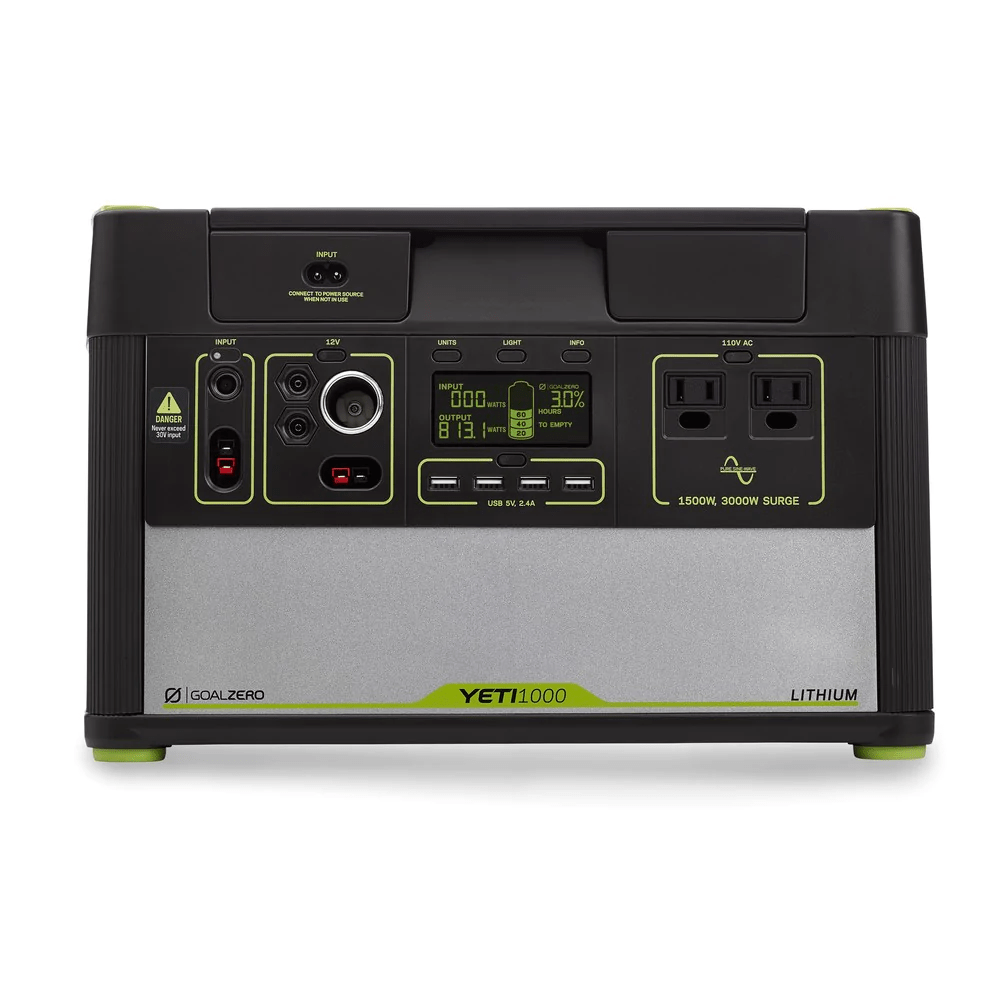 Like many others, do you love nature? Do you enjoy the adventures and thrills of a pleasant road trip? In any case, why not try the Goal Zero Yeti 1000 Lithium portable power station?
While some might consider it expensive (it costs about $1,200), something else usually attracts others- the device comes with a 3000w surge power Pure Sine Wave inverter. This unique feature has aroused the interest of many. Undoubtedly, the device has fantastic capabilities for charging solar panels.
What kind of device is the Goal Zero Yeti 1000? Essentially, the Goal Zero Yeti is an impressively sizeable portable power station. You can use the Goal Zero Yeti 1000 to provide backup power at home. You may use it whenever you go out on an outdoor camping trip.
Many find that the Goal Zero Yeti 1000's 40 lb weight makes it especially suitable for home backup power. Such weight is undoubtedly unsuitable for a muddy campsite. You can use the Goal Zero Yeti 1000 Lithium portable power station to power refrigerators and power tools.
Essential Features of the Goal Zero Yeti 1000 Lithium Portable Power Station
The Goal Zero Yeti 1000 is suitable for running multiple devices while on a camping trip. It can power most home appliances like TVs, laptops, and refrigerators; these can continue running for a few hours during a power outage. What essential features will you get with the Goal Zero Yeti 1000 Lithium?
The Goal Zero Yeti 1000 Lithium offers 1,084 watt-hours. The devices' lithium-ion battery can provide 500 charging cycles to a maximum 80% capacity. This means it can last long if used sparingly. The device can be charged using AC outlets (or wall outlets). You can also charge it with solar panels. Unfortunately, it's not possible to charge the device from a DC 12 v car charger.
Here's a quick roundup of some of the generator's essential features:
The Goal Zero Yeti 1000 Lithium comes with a 10.8 v, 96.8Ah 1,084wh lithium-ion battery
It provides 500 charge cycles (80% capacity)
It has a 3000w surge inverter
Features a Light-Up Digital Screen (the screen provides all the important information)
Offers 1500w pure sine wave inverter
Has 2x AC outlets
4X USB outlets (max 12w)
1 x DC (12V) outlet
200W solar panel charging (Anderson Pole or 8mm Anderson Pole input)
Interestingly, someone recently took the Goal Zero Yeti 1000 Lithium portable power station on a camping trip and used its "Hot Logic Mini" oven to make a quick pizza right in the middle of the forest! You sure want to try that.
The Jackery Explorer 240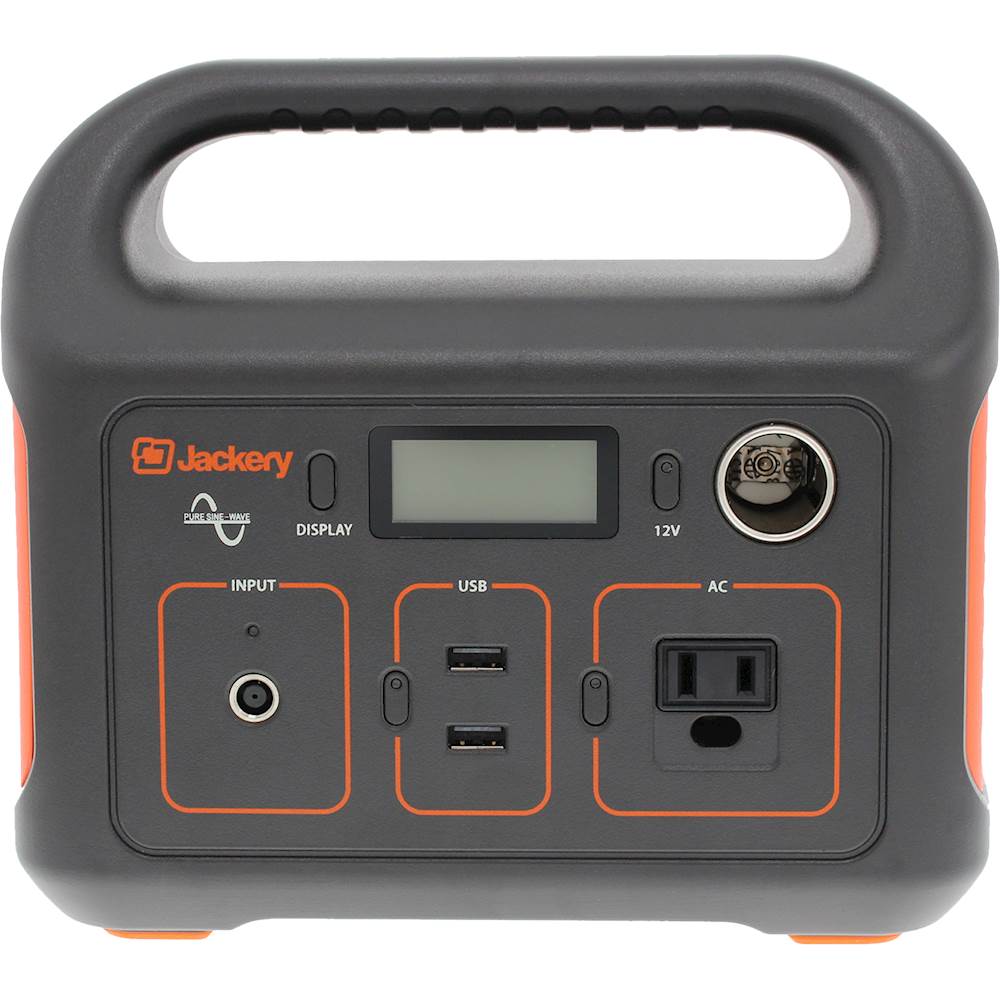 The Jackery Explorer 240 is considerably larger than most of the other reviewed generators. Nevertheless, the Jackery Explorer 240 is generally portable- you can carry it by hand. So, we can appropriately describe the Jackery Explorer 240 as semi-portable. Why would you need a device like the Jackery Explorer 240?
Well, powers stations of this range- weighing around 6.6 pounds- are popularly considered excellent preps. The power station is small enough to recharge off your portable solar panel; it's big enough to provide many small power appliances with much-needed power.
You may even power medical devices that use the AC wall plug. And you can use the Jackery Explorer 240 to top off smaller "packable" packs. Thus, you may leave the larger bank at the base camp and pack the smaller banks out there- in the bush.
The Jackery Explorer's General Specs
Weight: 6.6lbs
Capacity: 240Wh, (67ah at 14.4V)
Price: approximately $250
Charging ports: Works excellently with the Jackery Companion solar panel. Great input with adapters for the 12v car outlet and the AC wall outlet.
Power ports: 12v car outlet, 2X USB (5V, 2.4A), 110v, 200w AC outlet.
Functionality and Features
You'll find that the Jackery Explorer is a pretty simple, no-frills station device. This is essentially a 18650 cluster, carefully attached to the charging circuitry and the basic output ports.
The Jackery Explorer features a beautiful LED screen on its front part. The screen indicates the current charge level. It also shows which outputs and inputs are still active.
BLUETTI EB55
You also have a wonderful, middle-of-the-road option on offer: the Bluetti EB70. The device offers users a 716Wh support for electronics that consume up to 700W. You can have a red or black power station- complete with a convenient carrier handle. The device has several plug and port options.
Weight: 6.6lbs
Capacity: 240Wh, (67ah at 14.4V)
Price: approximately $250
Charging ports: Works excellently with the Jackery Companion solar panel. Great input with adapters for the 12v car outlet and the AC wall outlet.
Power ports: 12v car outlet, 2X USB (5V, 2.4A), 110v, 200w AC outlet.
The Bluetti EB70 has the following important elements:
Two 5V/3A USB- A ports
4 pure sine wave AC outlets
Two 12v/10A DC outlets
Two 100w USB-C ports
A 15W wireless charging pad
A 12V /10 A car port
The bluetti eb70 supports up to 700w; the device is so powerful that it can run many high-power-consuming appliances, including mini-refrigerators, heaters, and the like. It will still have ports to accommodate your iPads, iPhones, Macs, and such other devices. Moreover, with the USB-C ports, you can charge devices like the MacBook Pro at near full speed.
The Bluetti EB70 comes fully equipped with an ultra-stable battery. It can provide 2,500 cycles up to the 80% capacity. The mechanism and design mean that you are safe from safe-circuiting, overvoltage, overcurrent, overheating, and overloading.
The Bluetti EB70'S LED's powerful LED screen shows you the battery level and power draw. The Bluetti is also equipped with a beautiful built-in flashlight.
EF ECOFLOW RIVER Pro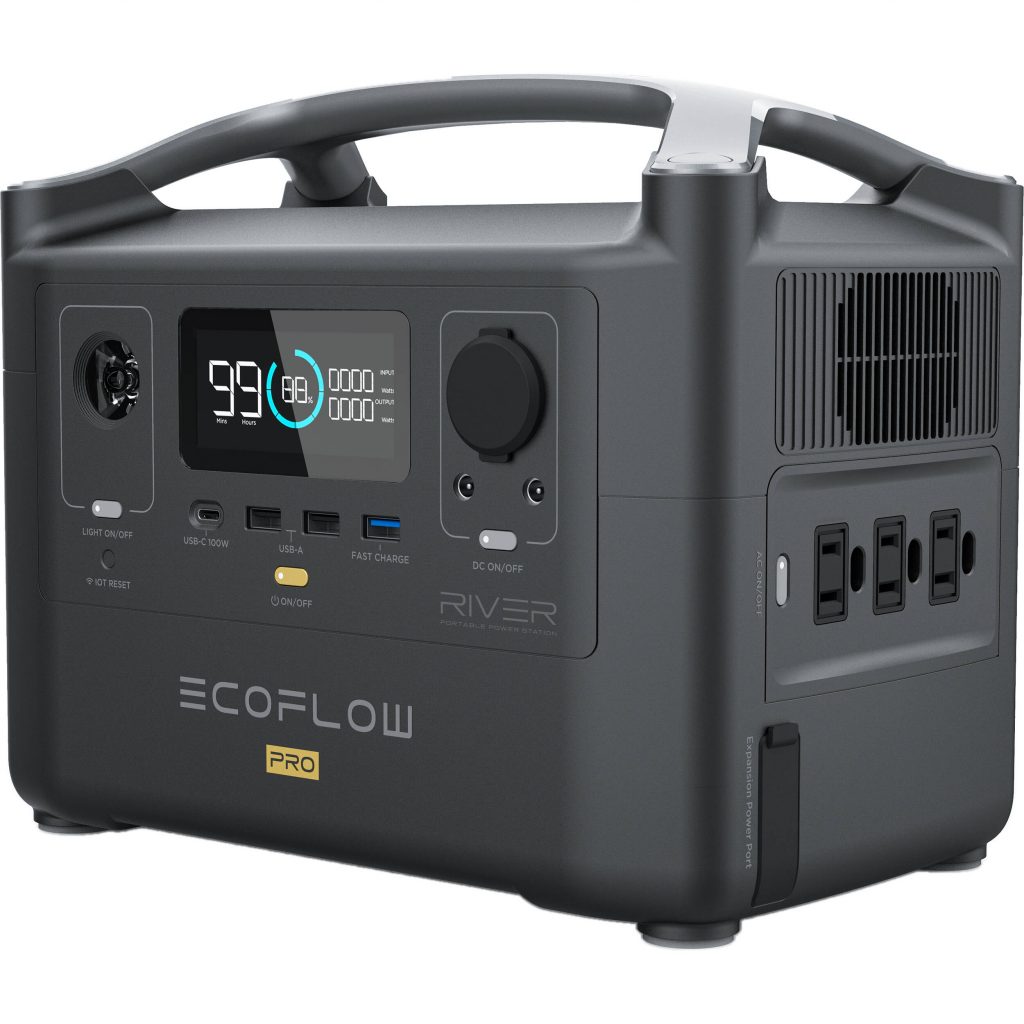 EF ECOFLOW RIVER Pro features three 600w AC outlets- since it has a 720Wh capacity, it can simultaneously power up a maximum 10 devices with several outlet options; the device also features three pure sine wave AC outlets.
As noted, while weighing only 15.9lbs, the device provides a maximum 720Wh power. You can recharge it to reach 80% within a short, 1 hour period. In fact, you can get the device to charge fully in just 1.6 hours.
With the versatile EF ECOFLOW RIVER Pro, you certainly have the power to have power at home or away! The device offers a fantastic portable means to charge your devices anywhere and everywhere. It doesn't matter whether you're going out on the next RV trip, if you're on holiday or whether it's a backwoods camping expedition.
Essential Features of the Ecoflow River Pro
The EF ECOFLOW RIVER Pro can power multiple devices that range up to 1,200 watts. Why should you choose the EF ECOFLOW RIVER Pro over the traditional gas-powered generator? Those who regularly travel from site to site and construction site workers will likely find it practical.
Generally, a solar power station has one great feature- since it uses clean energy and doesn't emit fumes, you can safely use it to run equipment, indoors or outdoors. It also operates silently.
The device also comes with the following accessories:
A car charger / 12Vdc 8A
AC Output (x3) / 600W (total, 120Vac)
Two USB-A outputs / 5Vdc, 2.4A, 12w per port
USB-A fast charge / 5Vdc, 28w maximum, 9Vdc, 12Vdc, 2.4A
With the EcoFlow RIVER Pro, users can have a high-output power station that maximizes portability, flexibility, and functionality.
The EcoFlow can efficiently run multiple devices simultaneously; this is one characteristic that you'll likely find missing from most portable power stations.
When Buying a Portable Power Station, What Should You Look For?
You must consider a few crucial factors when planning to buy a good portable indoor generator. Consider the following:
Output Potential
The indoor generator capacity and availability of outlets are crucial factors. You might need several USB ports or AC wall plugs; it all depends on your power needs. Are you going to use devices with high power needs? Ensure the chosen generator is rated to supply continuous wattage.
Also, think about the power inverter's size- usually, the bigger the appliances you'll need to power, the bigger the inverter.
We recommend using a 500-watt inverter; this is the sure way to guarantee you'll run your essential household equipment.
Determine the Amount of Power You Really Need
In most cases, you're not likely to satisfy your power requirements for the entire house or apartment using a portable generator. Thus, it's important to calculate the amount of power used daily. How much of this is really essential? Can some be rotated? How much is optional?
Suggestion: Here's how to calculate: Walk around the home and list everything you need or merely want to power. Some of these could be the sump pump, radio, refrigerator, laptops, other electronic items, mobile phones, medical items (like the CPAP machine), and portable heaters.
From the list, how much wattage does each item require?
Simply check the appliance labels to determine this. You can, otherwise, use our ready generator wattage calculator on the website.
Determine the Battery Capacity
As noted, the actual value of the indoor generator lies in the battery. If it has more watt-hours, it'll provide more power. Try to calculate the amount of power you need. What do you need to power? Calculate the average load in watts.
Here's how:  If you want to power a 75-watt fridge, some 20-watt bulbs, or a 65-watt TV, you need 160 watts. Next, divide the generator's battery capacity (in watt-hours) by the load in watts- this gives you the hours the generator can power this load.
Pick the Best Type of Battery
The most popular battery options are lithium-ion and lead-acid. The latter is used to power the likes of automobiles. Lithium-ion is often used to run power tools.
Since it's lightweight, it's often used in solar-powered generators. Lithium-ion batteries are more expensive but have a longer lifespan than lead-acid batteries.
Can it Connect Easily with a Solar Panel?
We have three main types of solar panels- polycrystalline solar cells, thin-film (amorphous crystal panels), and monocrystalline panels. The efficiency levels set the difference. Monocrystalline panels are more commonly used than polycrystalline panels; they're also slightly more efficient.
Thin-film panels are products of the most modern technological advancement; they are flexible, light, durable, and more affordable. But their efficiency is about 50% compared to the others. They either come with the generator or may be sold separately.
It's essential to note that most of the featured generators have the ability to hook up with solar panels. This means you can charge them yourself using solar power. Thus, they're particularly handy in places with no access to normal electricity, campgrounds, and other places.
Charging Capacity
Next, determine the indoor generator's full charging capabilities. Is it possible to plug the device directly into a wall outlet? What of the solar panels? And the car? Does it take longer to charge fully? Always ensure you can charge your generator quickly and efficiently, even when there's a blackout.
Understanding the following factors will help you calculate the indoor generator's charging efficiency using the 3 charging methods:
Charge Controllers
The simplest controllers usually cut the power on reaching the maximum voltage. This regulates the current between the battery and the solar panels. This is, however, a less efficient method than models designed to use the three-power point tracking (or MPPT).
Inverter
To indicate the maximum power output they can generate, inverters usually carry a watt rating. They help convert direct current from the solar panels to alternating currents. Pure sine wave inverters are the most efficient- they are, however, more costly. Note that if you rarely use your generator, such inverters won't save costs.
Weight
If you seek portability, select an easy-to-carry generator. These are often packed in a sturdy box (instead of separate pieces).
How Do Indoor Generators Compare With Outdoor Generators?
As a rule, indoor generators usually cost more than a traditional gas-powered generator. Consider: It might be necessary to buy solar panels to charge the indoor generator.
Further, the indoor generator's capacity is often more limited.  Hence, many have to manage their power consumption carefully; some opt to buy multiple generator units.
Notwithstanding, indoor generators come with certain advantages. First, you can safely use them in situations where you can't use the outdoor generator-like condos and apartments.
Also, you can use them in all kinds of weather (in contrast, some outdoor units cannot work in extreme weather situations). And with the outdoor generator, you don't need to use fuel. They're also noiseless and easily portable.
Conclusion
In recent days, the popularity of portable indoor generators has continued to soar. These modern machines are packed with tremendous power capacity. Most of them come with a convenient battery storage design; this is a bonus.
When you're out shopping, choose a rechargeable portable indoor generator for your apartment; make sure it's solar-rechargeable.
Ultimately, regardless of where you go, this means you'll finally say goodbye to all those previous power woes; yes, such troubles will be a forgotten thing of the past.