The Honda EU7000i Generator: A Proven Workhorse with a Famous Name
Last Updated on July 5, 2022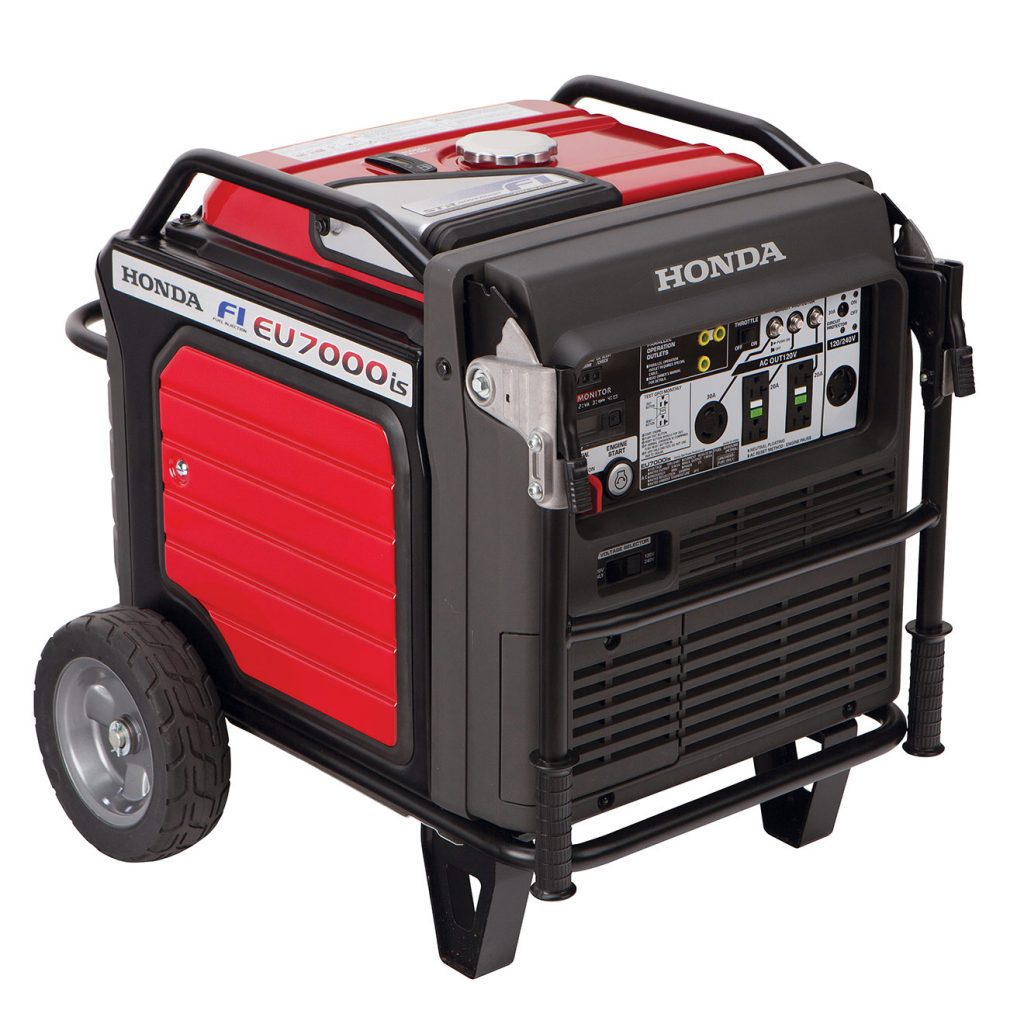 You can't find many silent inverter generators that produce a 7000- watt peak output. Compared to the competition, the Honda EU7000is is the best generator of its class. As noted, it may not be as cheap as most users would wish it to be. Remember, nevertheless, that the Honda brand is a quality product that rises head and shoulders above the competition.
Do you wish to own a fantastic generator that will rarely disappoint you? The answer is simple: Get the Honda EU7000is generator. It will do the trick.  This is a proven workhorse that carries a famous brand name.
The Honda EU7000is remains one of the most suitable 7000 watt generators that one can buy. What is more, this generator is superior to many of its peers found in the market. At 52 to 60 Db, this is a very quiet operating engine. It also emits clean energy and can safely be used to power many sensitive electronic gadgets. It is also great for multitasking.
Features of the Honda EU7000is
The starting Watts is 7000w. The running Watts, on the other hand, is 5500w (120/240V).
It is a great machine to back up power at home. It is also suitable for RVs, outdoor games and more.
Engine type: Honda GX390 EFI.
It is very quiet and operates at 52 to 60 dBA.
It is fuel- efficient and can do a maximum of 18 hours on just 5.1 gallons of fuel.
It offers a convenient electric start.
It offers a stable inverter power.
It is fuel injected and has excellent fuel efficiency. It also comes with low maintenance costs.
It has an advanced inverter technology. This gives suitable power for computers and other sensitive equipment.
It has handles that can be raised or lowered during transportation or storage as necessary.
The i-Monitor gives vital information on wattage, hours of operation, and engine speed. It also provides diagnostics for better dealer servicing.
It has two outlets: The 120v duplex outlets and the GFCI 20 amp.
It complies with the ETL and NEC requirements.
It offers a 3 -year commercial and residential warranty.
It gives the option of 120 volts, 120 and 240 Volts, or both.
It has powerful electronic circuit breakers.
Super-Quiet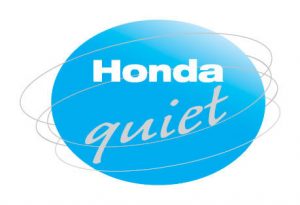 You may not find many inverter generators of this type in the market. The Honda EU7000is is both super quiet and can do a peak of up to 7,000 watts.  This is one of the best generators of its class and category that is readily available.
To be sure, the Honda EU7000is generator does not come cheaply. Regardless, when you buy this generator, remember that you are buying a Honda. Honda is one of the most highly respected brands in the modern market. Whatever price it comes at, buying this machine will likely be worth every cent you pay.
Stellar Reputation
The Honda EU7000is can rightly be called a runaway market champion. It is not a quitter. You can count on this remarkable machine to keep your equipment running without a hassle.
The Honda EU7000is first came out in 2014. It has since secured itself a stellar reputation as a super performing machine. The world famous generator is a classic combination of sophisticated modern technology and unfailing reliability. It provides a stable, inverter supplied energy and a quiet running operation all combined.
Is the Honda EU7000is a perfect generator, without defect? Far from it. A few users have complained that this generator lacks parallel connections. Regardless, this is probably the only defect users can justifiably bring against the product. In fact, with the amount of wattage this machine gives, most people would not require any extra the power. The generator is capable of running most household gadgets quite effectively. Indeed, it can cope with most of the work common in a construction site. Few should complain about its power capacity.
Wireless Control
It could be said that the closest generator that a buyer can compare with the Honda EU7000is is the Yamaha EF6300iSDE. This model of the Yamaha is quite similar to the EU7000is. Just like the Honda, It is also a relatively robust and quiet inverter machine.
When you buy the Yamaha EF6300iSDE, you will get an optional wireless control. Notably, the Honda EU7000i does not have this feature. Nevertheless, to get this feature, some buyers go, instead, for the Honda EU7000IATI.
Technical Specifications
| | |
| --- | --- |
| Engine | Honda GX390 EFI |
| Displacement | 389cc |
| AC Output | 120/240V 7000W max. (58.3/29.1A) 5500W rated (45.8/22.9A) |
| Receptacles | 20A 125V GFCI Duplex (2), 30A 125V Locking Plug, 30A 125/250V Locking Plug |
| DC Output | N/A |
| Starting System | Recoil, electric |
| Fuel Tank Capacity | 5.1 gal. |
| Run Time per Tankful | 6.5 hrs.@ rated load, 18.0 hrs. @ 1/4 load |
| Dimensions (L x W x H) | 33.4" x 27.6" x 28.4" |
| Noise Level | 58 dB(A) @ rated load, 52 dB(A) @ 1/4 load |
| Dry Weight | 261 lbs. |
| Residential Warranty | 3 Years |
| Commercial Warranty | 3 Years |
Design
The EU7000is has an incredible and robust design. While most machines of this type use a plastic housing to limit the noise, the Honda EU7000is uses a steel tubing frame with active sound insulation panels. This makes the machine a bit heavy but super tough.
Engine Efficiency and Work Time
The GX engine range is one of the best in the market. It has a fuel injection feature that is truly magnificent. The Yamaha is a great machine, in comparison, but the Honda GX engine is still top of the game. It can be trusted for excellent reliability and performance. Indeed, this is typical of the Honda brand. The engine is simply superb.
Noise Levels
Talking of noise levels, the Honda EU7000is is simply a miracle. It produces a noise measure of just 60dBa while running at full load. Remarkably, this is quieter than the usual voice of a human being in ordinary conversation.
In comparison, many smaller engines with lower KW output are louder at work. While running at a -quarter load, the noise levels of the EU7000is generator will drop to a fantastic 52dBA. This can rightly be described as super quiet generator. It means that you can continuously run an AC but will not hear the machine over the sound of the air conditioner!
Control Panel and LCD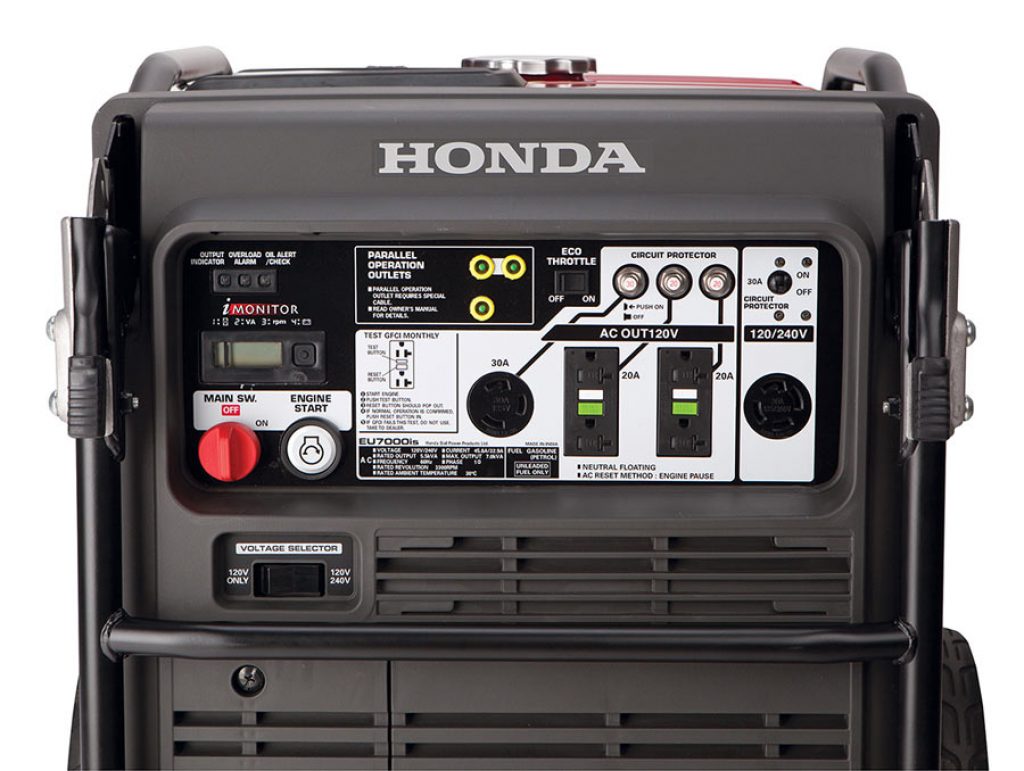 The control panel of the Honda EU7000is is well shielded from damage because it is quite recessed. It gives you all the outlets that you might want. For instance, if you wish to have a 120v/240v outlet with a 30A twist-lock, you will get it. If you need a 120v 20A GFCI outlet, 2X duplex; you will also get it. Or, if you require a 120v twist-lock outlet of 30 A, you will similarly get it.
Further, you can easily connect the EU7000is engine to a transfer switch or an RV to power your home during an emergency. The machine can also run a 120v high- power equipment or an extension cord setup from a household outlet. Its simple on and off switch is quite useful. It has an electronic fuel injection that makes for an easy start button.
LCD Display
The Honda EU7000is features an LCD display. The magnificent display informs you of the watt output, run time, and engine speed. It also gives diagnostic information that is readily displayed on the computer.
The machine has two selector switches. One of these switches helps you select the 120v or 240v operation. The other is for the smart throttle or economy mode option. This mode can help you save on fuel when the power demand is low.
The LCD display features a fuel gauge. This means there's no need to open the fuel tank and guess about the runtime left. It has an alarm and alarm lights that help you gauge current overload or low oil. The engine shuts down if the oil goes too low and the breaker will trip if the current overloads. In any of these situations, the light on the control panel always indicates why there is no power. The alarm, at the same time, sounds a warning.
Mass and portability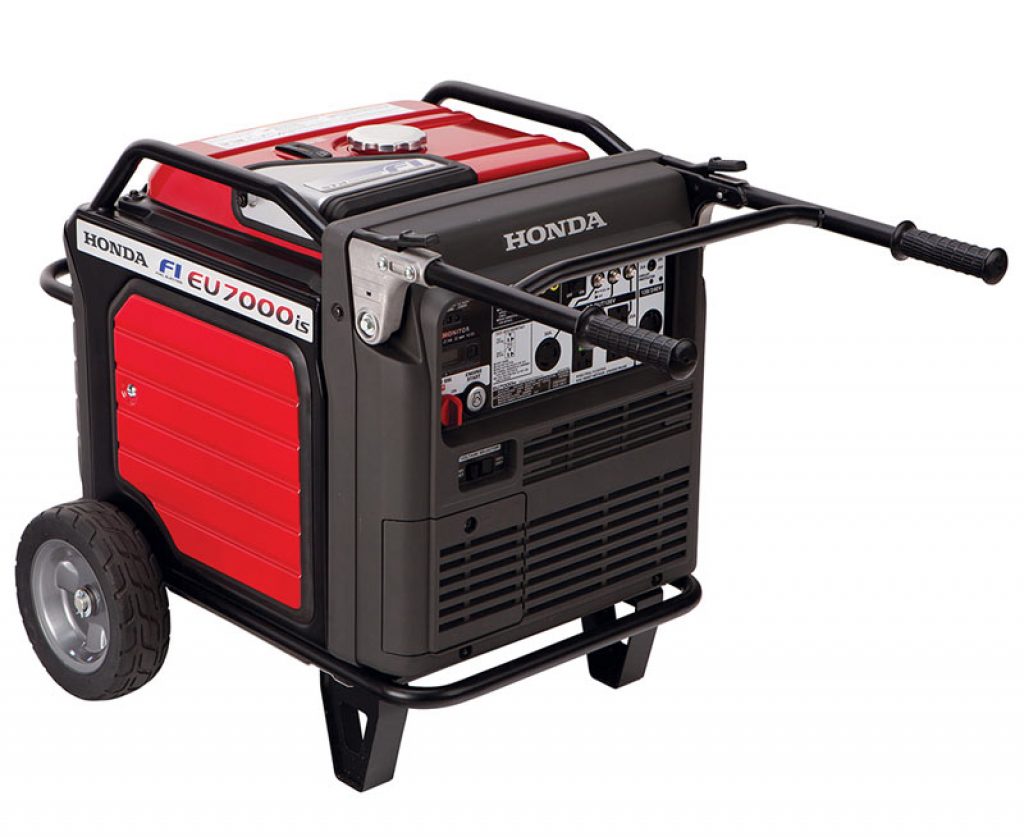 The Honda EU7000is is a real heavyweight. It is a sturdy generator made up of lots of steel. It weighs 261 LBS. It has fold-down handles and large wheels which are tough and able to cope under the harshest of conditions.
The machine can stand firmly on two strong metal feet. The metal stands, together with the rubber wheels, act to reduce vibration. Indeed, the GX39OEFL can be said to among the smoothest running machines that one can get anywhere.
EU7000IAT1 vs EU7000is Difference
The Honda EU7000IATI is similar to the EU7000is generator. The main difference is, when you buy the Honda EU7000IATI machine, you also get the remote control. It is, however, evident that this remote control isn't a wireless device like what the Yamaha offers. For you to start generator remotely, you will need to connect the machine to a wire.
Regardless, for many users, the Honda EU7000is is still the hot favorite. Indeed, most contractors, who work on sites, would readily prefer the EU7000is. The main reason is, the EU7000is boasts a robust design. This notwithstanding, for those who use their generator mainly for camping trips or at home, the Yamaha might be preferable. It is relatively lighter and more portable.
All said, both the Honda and Yamaha generators are legendary products manufactured by reputable Japanese companies. They have a checkered history and are, doubtless, some of the best machines of their kind.

Conclusion
You can't find many silent inverter generators that produce a 7000 watt peak output. Compared to the competition, the Honda EU7000is is the best generator of its class. As noted, it may not be as cheap as most users would wish it to be. Remember, nevertheless, that the Honda brand is a quality product that rises head and shoulders above the competition.
From this information, it is clear that the Honda EU7000is a super quiet generator. Honda products have an excellent reputation as virtually durable and utterly reliable under any conditions.
Honda service is known to be among the best, and the product comes with a 3-year warranty. Do you desire the convenience of a remote control? You have the option of the Honda EU7000IAT1. It has all the features found in the EU7000is generator complete with a port to fix a wired remote control.