This Is The Quietest Generators On The Market in 2022
Last Updated on August 17, 2022
There are so many different types of portable generators that you could choose from. Choosing a quiet portable generator will benefit you and your neighbors or fellow campers, by making sure that electric power is generated quietly and peacefully. Having a quiet generator makes sure that nothing breaks your concentration. You will, therefore, do all your daily tasks in a noise-free environment.
Excellent Tips to Pick the Best Quiet Portable Generator in the Market
Have your recently suffered a power outage? Did you long to have your house warmly lit again or you simply wanted the Recreational vehicle kept cozy? A portable generator is just the right wand that you need. It does the trick instantly. Sadly, this solution can come with an unexpected menace:  constant noise. This, obviously, would be an unwelcome guest, both to you and your neighbor.
What, then, is the ultimate solution? Simple: you need to buy a quiet portable generator. Happily, you can get such a generator, the kind that runs quieter, with less vibration, at an affordable cost. And, believe it, some of the quietest generators in the market are not much louder than ordinary human conversation. Conveniently, the package comes with a large after- deal that offers you an advanced noise reduction service.  You, therefore, get the quietest running generators without a hassle.
In this quick voyage of discovery, let's first narrow down to the small generators, mainly the 200w to 300w models of the quiet generators. These machines, for sure, pack enough power to keep home appliances running throughout. In any event, be confident that, in case of emergencies, this generator will work super effectively.
An added helpful tool, as you ponder your choice for the quietest portable generator on the market, is our Wattage Calculator. It can as well help you determine the right size of machine. You can always download the handout worksheet with the vital information you need prior to buying.
Quick Summary of Quietest Generators according to Our Opinion
WEN 56203i
Ultralight body weighs in at a mere 39 pounds for easy transport and storage
Extremely quiet operation comparable to the sound of a normal conversation according to the US Department of Health and Human Services
Produces 2000 surge watts and 1700 rated watts of clean power for safe charging of sensitive electronics (phones, tablets, televisions, computers, etc.)
Westinghouse iGen4500
Perfect for Camping, Tailgating, RV's, Home Backup, and More
Remote Start, LED Display, Up To 18 Hour Run Time
4500 Peak Watts and 3700 Rated Watts with Remote Start
WEN 56380i Super Quiet
Extremely quiet operation minimizes noise; EPA III and CARB Compliant
212cc 4-stroke OHV engine produces 3800 surge watts and 3400 rated watts with a half-load runtime of up to 8.5 hours
Fuel shutoff maximizes the generator's lifespan by using up the remaining fuel in the carburetor before shutting down
When you make a purchase from one of these links, We may receive a small commission at no extra cost to you. 100% of the fees we collect are used to support our nonprofit mission.
How many Power Do you need? More Power = More Decibels
Would you really know how a generator's noise level rating is calculated? In this respect, a key selling point is the rating of various decibel levels (dBA) of the quietest generator. In general, a quiet power generator's levels usually range between 50 dBA to 60 . In order to better understand the nature of these noise levels, let us compare this with the average dBA levels of some common noises people are accustomed to: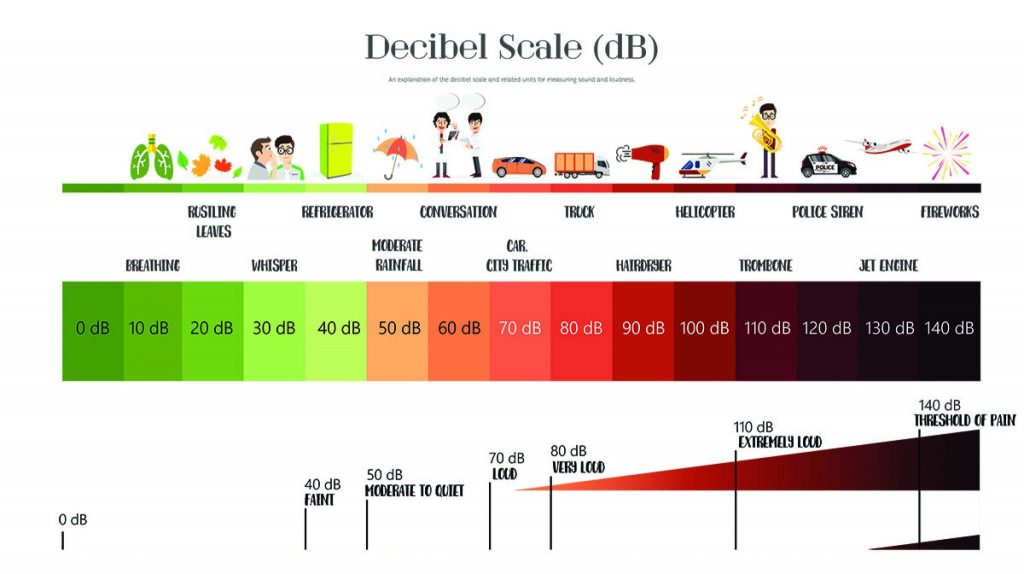 As you ponder this fascinating comparison, remember that a whisper-quiet generator will not nearly be as loud as normal human conversation. As it goes, more power usually means higher decibels. This, in turn, means that a 3000w machine will be louder than a 2000w generator. At the same time, decibel levels certainly increase as the generator load increases.
While considering what kind of generator will ultimately suit you, keep in mind that some small quiet generators usually have a power output of only 1,000 watts, yet, interestingly, when put to full use, they can run surprisingly many appliances.
Trouble, however, is that, for you to run many things at a go, you must, somehow, add the required wattage. Unless this is done, the 1,000w machine will generally run just a few appliances at once. In comparison, the 2000w quiet generator gets to allow you enjoy more than light power usage. Additionally, it's pretty portable, meaning you can easily carry it along wherever you want to go. Even sweeter, it will easily power such energy consumers as heaters and microwave ovens that are important during outdoor events.
Now, do you need to determine the right size for that generator you plan to buy? Quickly use our Wattage Calculator and, voila! You are good to go.
A Measuring – Scale for Noise?
Just how do you measure noise levels accurately? In order to determine this, we need to venture into some science history. And a good starting point is the origin of the term 'decibel.' One decibel equals one- tenth of a Bel. The latter term was coined by scientists in honour of Alexander Graham Bell, one of the greatest inventors in science history.
Interestingly, a decibel sound designated as zero does not necessarily mean the complete absence of sound. This is simply the threshold of hearing; in other words, it is a record of the lowest sound that the human ear can hear. And certain data associated with decibel measurements do not seem to make much sense either. For instance, the difference between 0 and 130, speaking decibels, will not be 130; the difference is about one billion! What logic applies? Decibels scales are calculated logarithmically. More important to us, the loudness of a generator is usually measured in A-weighted dBA's. This means that, the higher the dBA, the louder the generator. As it is, when selecting the right generator, remember that each type of generator differs from the other in terms of the noise produced.
The Noise Of A Generator Is very Subjective
Talking about generator noise, once again it's important to note that numbers don't make sense. Think of this simple hearing test: a human being can actually hear things at zero dBA. Further, at 160dBA, one's ear drums will get destroyed. At 130Dba a person will feel pain.
Again, it's easy to presume that, as far as noise levels are concerned, lower decibels are better. Far from it, how comes that you might get annoyed by a neighbour's loud phone conversation yet prefer much louder sounds at home when listening to your favorite music? It's all subjective. Moreover, why would you prefer one generator's sound over another? Might it be because you prefer the engine's humming sound or its chug-along rhythm? Again, it's simply subjective.
Factors Impacting Generator Loudness
Many factors affect the amount of noise produced by generator engines. These include the air density in which the machine operates. Serene Surroundings, for instance, have a bearing on the sound rating resulting from operations of two identical generator sets.
A third factor is the cooling factor. A particular cooling system can alter a running generator's quietness. This is because the sound produced by a cooling fan varies depending on factors like the operating speed and design of the fan blade.
A fourth reason is the structure of regular generators. These often allow space for mechanical vibrations hence impacting on the sound and noise levels. In addition, the friction of various generator components usually results in more mechanical noise.
Selecting the Most Eco-Friendly (CARB and EPA Compliant) Generator
Some ask: What are CARB and EPA compliance? Why does it matter to achieve CARB and EPA compliance? Essentially, these respected regulators are the ones who guide the generator manufacturers to prepare safe products for consumers.
So, why is CARB and EPA compliance important?
Reduction of Noise, Air Pollution
CARB and EPA compliance helps to reduce air pollution and other environmental problems while using a generator. This protects the user's health and general well-being (particularly respiratory health).
Avoiding Fines
If you use a non-CARB compliant generator in California or a non-EPA compliant generator elsewhere in the US, you risk attracting a huge fine.
High-Quality
CARB and EPA compliant generators minimize the emission of harmful substances. They produce clean energy and are reliable, durable, and fuel-efficient.
Important Note
When purchasing a generator, check the manufacturer's specifications to confirm it's CARB and EPA compliant. Whether you live in California or not, it's advisable to get a CARB compliant generator. Thus, you'll be safer.
Yes, if you want the most environmentally friendly generator, choose a generator that matches EPA and CARB standards; period!
Honda EU2200i – Best Overall Quiet Generator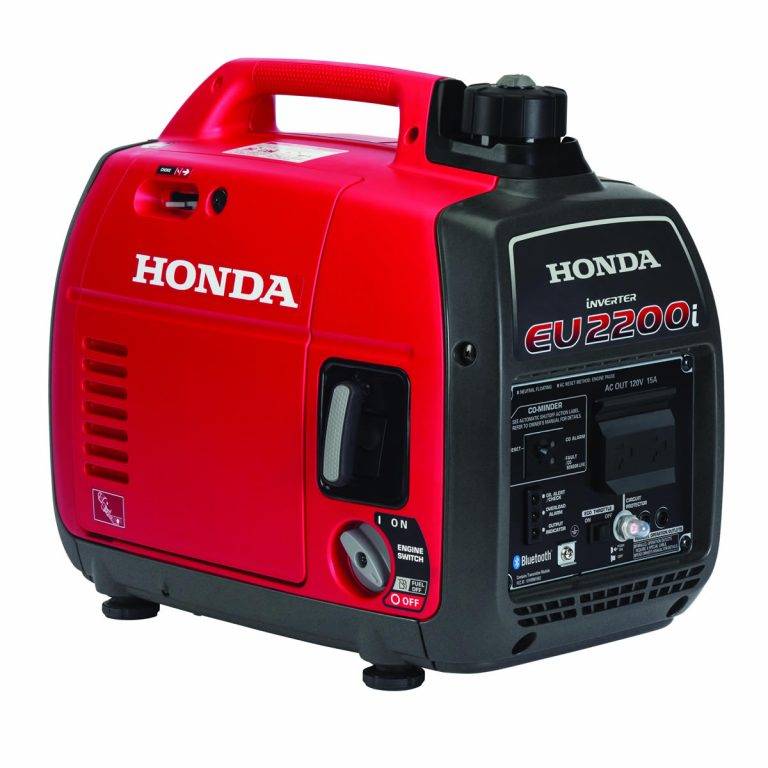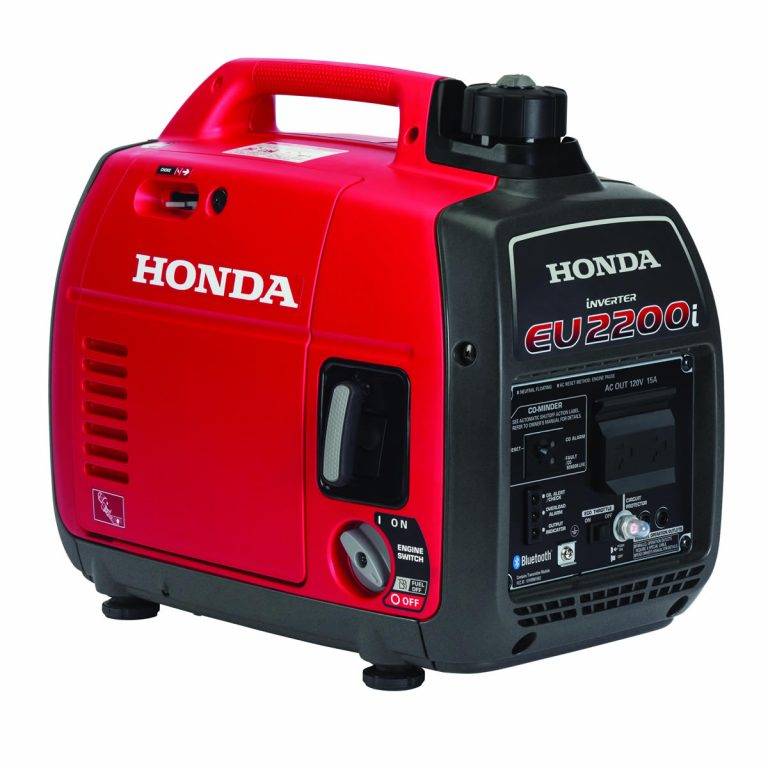 Does endless generator noise bother you? Well, check out Honda; it ranks tops as one of the best quietest generators. And the noise levels for some top Honda models can be as low as 50 DBA.
Generally, Honda enjoys an impressive runtime– In fact, some models can run non-stop for 16 hours.  And they do excellent fuel economy.
As noted, Honda's latest model is called the Honda EU2200iTAG. It's among the quietest operating generators in the market in 2021. Overall, the new Honda EU2200i has a massive advantage over most other generators.
In the end, the consumer should consider whether this is the best value for money.  However, Honda is famous for its ultra-heavy-duty reliability.
Worldwide Presence
Honda has another significant advantage: a worldwide presence.
Hence, no matter where you are, you can enjoy reliable service from a Honda service center. Yes, there's no doubt about it- Honda offers the best dealership service compared with most competitors.
Overall, Honda is among the best. In the end, isn't it worth paying more to enjoy the best product in the market?
Now, let's hop in to discover 8 other quietest generators in 2021.
Generac GP3500iO – Ideal For Camping and Powering Small Food Trucks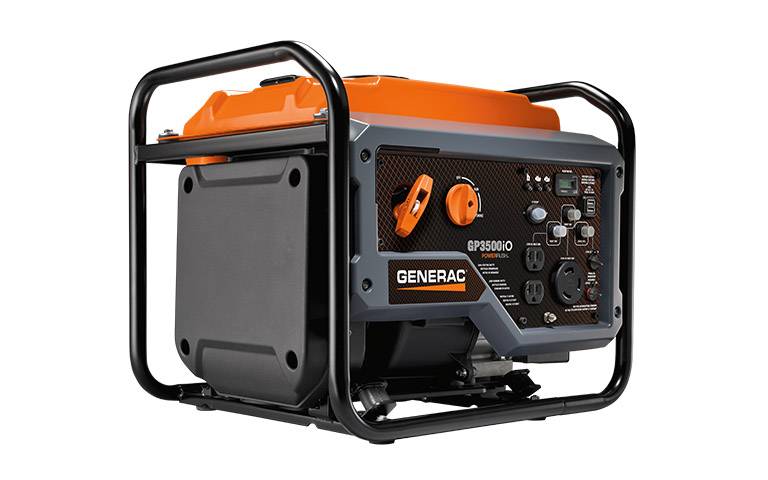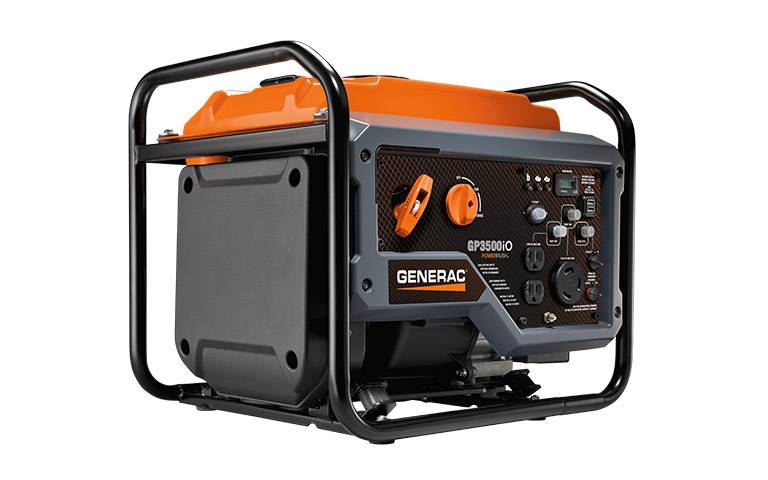 Way back as in 1959, Generac, a renowned engine manufacturer, was already producing generators. Throughout the decades, Generac dedicated itself to supplying the large international market.
Generac makes all kinds of generators- small portable units and large industrial standby machines. The generators they make range up to 9 megawatts. Most users consider Generac generators to be the best-performing high-quality products. Many find them affordable and suitable for home and recreational use.
Overall, Generac has produced many quality brands- these include TruePower, PowerRush technology machines, and others. Regardless, Generac mimics many inverter generators of its type.
Compared to the WEN GN 400i, Generac features a lower peak output rated at about 500W.  Generac machines are operated by a simple user panel switch and the economy mode.
Generac GP3500iO's Impressive User Panel
With its impressive user panel, Generac has done an excellent job. The panel has a PowerDial– you can use this to switch on the machine, engage the choke and open the fuel supply. Doesn't this make everything simpler?
And it goes further- the designers put the recoil starter on a panel located just next to the dial. Yes, you'll find this a hassle-free machine when starting up. Note that- just like the WEN generator-this model does not have an electric starter.
Generac GP3500iO User Outlets
Generac comes with several user outlets- this includes a pair of twist-lock 30A 120V outlets and a 120V 20A household outlet. The 20 A circuit breaker is essential for protecting both the 30A and the 20A outlets (the 30A features an independent breaker).
Also, the 30A breaker is only important whenever you're using 2 parallel generators. At the same time, a single GP3500iO produces a 25A peak power output. The main breaker fitted to the generator rated at 25A. Essentially, this means the main breaker will trip before the 30A breaks.
A Fuel-Efficient Machine
Generac GP3500iO is an open frame inverter generator. It has a 3500W (starting watts) peak power capacity and a 3000W rated running load. Although it's more costly than the WEN GN400i, Generac is likely the WEN model's closest rival (just like the Champion model).
The three models are among the more affordable 4KW generators.
Generac's 212 cc OHV engine seems to measure up well when placed side by side with others. The generator comes with a large fuel tank that can hold 2.37 gallons. With this, the machine can do 8 hours of runtime while working at 50% load. This means Generac runs 1 hour longer than WEN400i.
Please keep this in mind: The above data doesn't mean Generac's fuel consumption is better- it simply means the generator has a larger fuel tank. Generac will give you 5 Kilowatt-hours for each gallon of fuel; this means its fuel efficiency is actually 25% less than the WEN 400i's.
Generac 7129 GP3000i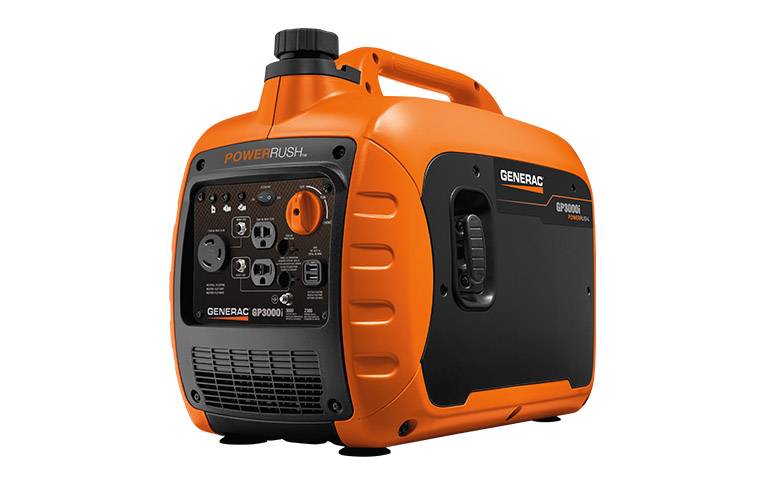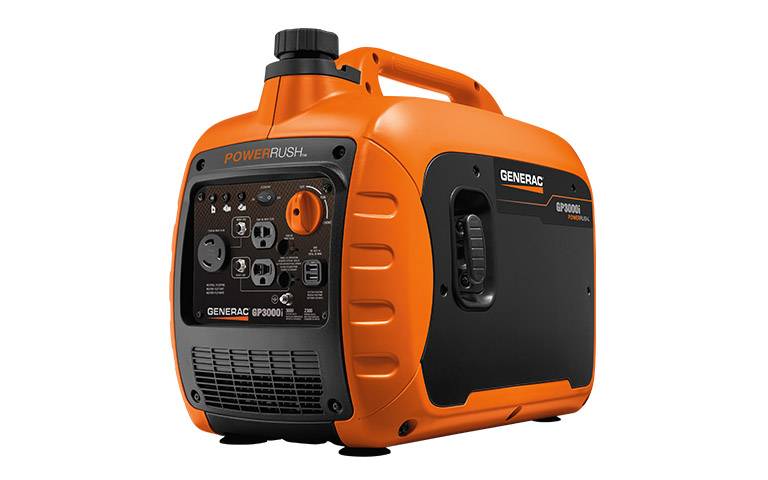 The Generac GP3000i (7129) is a lightweight, compact inverter generator. It comes with a 2300W rated wattage and a 3000w starting wattage of 3000 W. This is a highly affordable machine for recreational use. Its size makes it ideal for camping, tailgating, and use as an efficient power tool.
Here's a brief roundup: The Generac GP3000i may be ideal for campground lovers who want to enjoy power everywhere they go. Those who wish to improve their efficiency with handling tools will also find it helpful. Ultimately, it's ideal for RV travelers who seek more independence.
Generac GP3000i's Parallel Capacity
A 149 CC Generac OHV- 4 stroke engine powers the Generac GP3000i. The machine can deliver 120V and runs on gasoline. The generator offers its users a 2300W running wattage and a 3000W peak wattage.  With a iQ3500 parallel kit, the generator is parallel cable-enabled and can be paired with another unit to produce extra power.
The generator is designed with a conventional pull-start mechanism and features an easy-to-use PowerDial with three operational settings. The machine has a large fuel capacity (1.06-gallon tank) and can run for a maximum of 5.8 hours when the tank is full. The fuel consumption is some 0.18 GPH. The GP generates a clean sine wave that can reach 3% Total Harmonic Disruption (or THD).
The generator's control panel is designed with 2 DC outlets, two 5V USB ports; users can conveniently charge electronics like mobile phones and tablets. It's an easy-to-connect model that has an L5-30R receptacle.
Note that this specific model is not RV-ready.
Easy-to-Transport
The Generac GP3000i is a closed design inverter generator that's aesthetically better than many conventional, open frame machines. Since it's portable, this model is perfect for recreational enthusiasts who wish to generate power.
Further, the GP3000i's dry weight 59.5 lbs means you can use it wherever you wish. It comes with a nifty handle that's molded in the case; thus the user's grip is considerably enhanced.
Generac GP2500i Inverter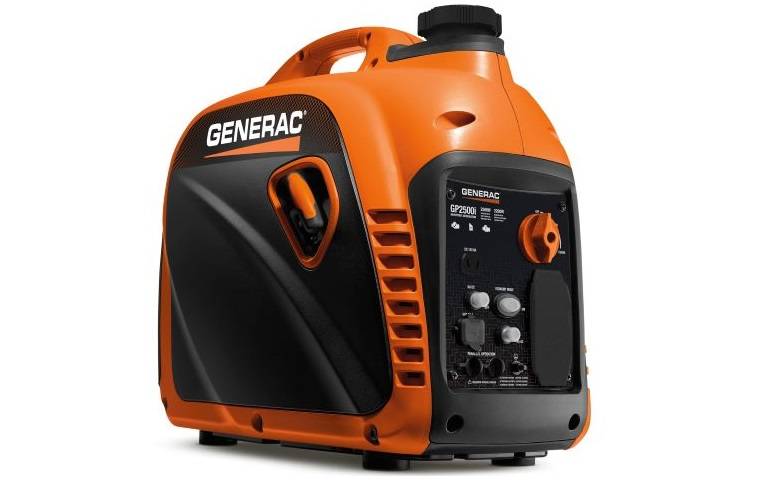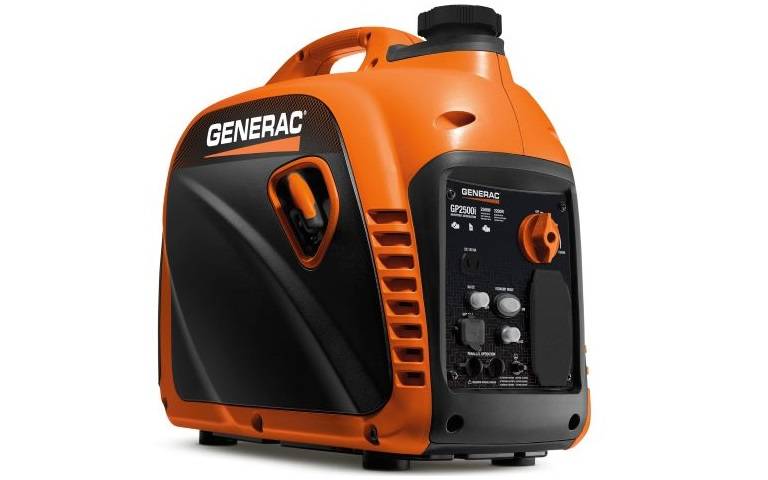 The Generac GP2500i (8250) is another compact, lightweight inverter generator. This model comes with a 2200W rated wattage and a 2500W starting wattage. Many find this machine relatively affordable. It's ideal for recreational users and practical for camping and tailgating; yes, this compact machine can offer you power wherever you go.
GP 2500i Power Capacity
The Generac GP2500i comes with a powerful engine (the 98 cc OHV 4-stroke). It runs on gasoline and can deliver 120V. It can reach 2500W peak wattage and provides 2200W running wattage. The generator comes with a 7118 parallel kit; this means the users can double its power output with a second compatible machine.
The inverter generator is designed with a traditional pull-start mechanism. When its tank is full, the GP2500i can run for a maximum 8 hours. With a 1-gallon fuel capacity, the fuel consumption is around 0.13 GPH. You can conveniently and safely plug delicate electronics into this machine's AC outlets since it produces a clean sine wave; the sine wave can reach a 3% Total Harmonic Distortion (THD).
Generac's Easy Portability
The GP 2500i inverter generator comes with a (L 19.7X W 11.4x H17.9 in.) closed design. Again, the machine is aesthetically superior to many conventional, open-frame machines. Users of recreational power will find it quite convenient.
The machine's control panel has 2 AC outlets (the Duplex 120V 20A (5-20R). It has 3 DC outlets, 2 5V USB ports for charging electronic items. Of course, this is a lightweight, easily portable generator that weighs a mere 48 lbs.
You can easily move the machine singlehandedly and enjoy power on the go. The generator's portability power is further enhanced with its well-designed, molded case- handle (for easy carriage).
WEN 56203i Super Quiet 2000-Watt Portable Inverter Generator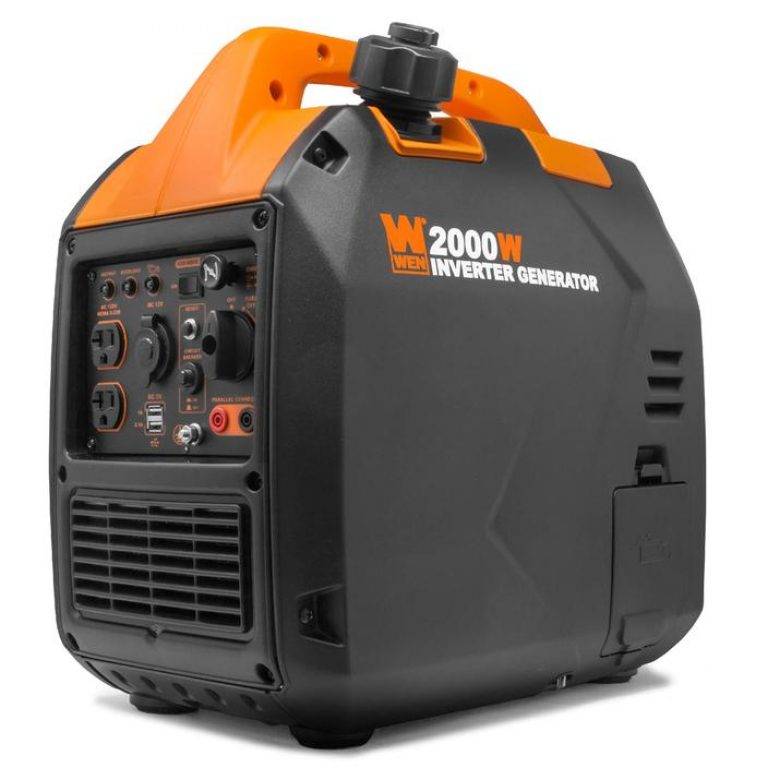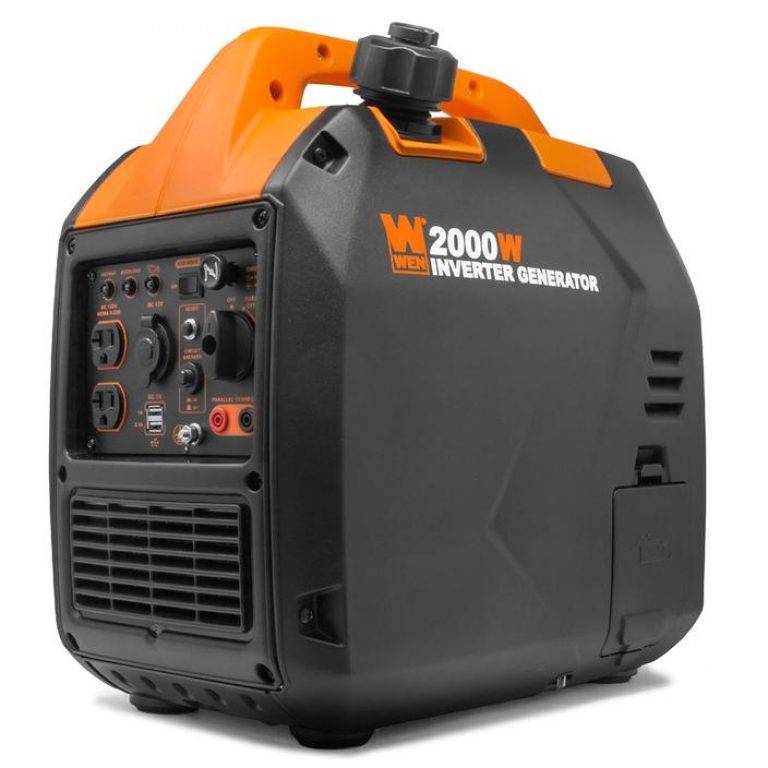 The WEN 56203i is yet another quiet, lightweight, and compact inverter generator. It has a 1700 W rated wattage and a 2000W starting wattage. Those wishing to enjoy the convenience of a quiet, clean portable power will find this fantastic.
The machine provides users with clean energy that comes free of voltage drops and spikes. It offers great power without the noise that ordinary generators usually produce. This is a great machine for hunting, tailgating, and camping- with it, you can quickly restore backup power.
The WEN 56203 can produce 1700 rated watts and a maximum of 2000 surge watts. Its 78cc 4-stroke OHV engine runs at a 51-decibel noise rating (while working at 25% load)-this is actually quieter than ordinary human conversation or the sound produced by the window air conditioner.
WEN 56203i's Parallel- Capacity
The WEN comes with a convenient feature for parallel connection. The inverter generator is designed with the traditional pull-start mechanism. The rated low noise 51 DBA (is a little louder than noisy rainfall). Many rank this model among the top 10 quietest generators.
The WEN's 1-gallon fuel capacity gives it a 7-hour maximum runtime while running at 50% load (when the tank is full). Its fuel consumption stands at 0.14 GPH. The WEN generator produces a clean sine wave of 1.2% THD. This means you can safely plug in your sensitive electronics in its outlets.
WEN's Portability & Control Panel
The control panel features 2 AC outlets; this includes the Duplex 120V 20A (5-20R). It also features 3 DC outlets. Further, it has a 12V 8A receptacle (designed like a cigarette lighter). With this receptacle, you can easily charge batteries; also, with the two 5V USB ports, you can charge electronics like tablets and phones.
Like the other generators, the WEN 56203i inverter generator has a L17.3x W11.5x H17.7 encased design. Again, like others, it has enhanced aesthetics (compared to most conventional open-frame generators). The machine is convenient for generating power for recreational use.
The WEN generator weighs a mere 40.3 lbs, is portable and lightweight. You can singlehandedly move it without help and enjoy power on the go. The molded-in-the-case handle facilitates easy carriage.
WEN's Accessories
The 56203i generator's panel has light indicators that you can use to determine if the generator is ready, whether it's overloaded, or whether the machine's oil levels are sufficient. The device has a convenient fuel shut-off mechanism that you can use to turn off the fuel flow.
Once this is done, the generator will exhaust the carburetor fuel before shutting down. Further, the mechanism fights blockages and the buildup that stagnant oil causes. It also minimizes the maintenance costs and prolongs the unit's lifespan. The 56203i features a low fuel and low oil automatic shutdown as well as a circuit breaker for overload protection.
Overall, the WEN 56203i comes with other helpful accessories like a tool kit and funnel.  You can quickly start it right away, as soon as you reach home.
Champion Power Equipment 100302 4000-Watt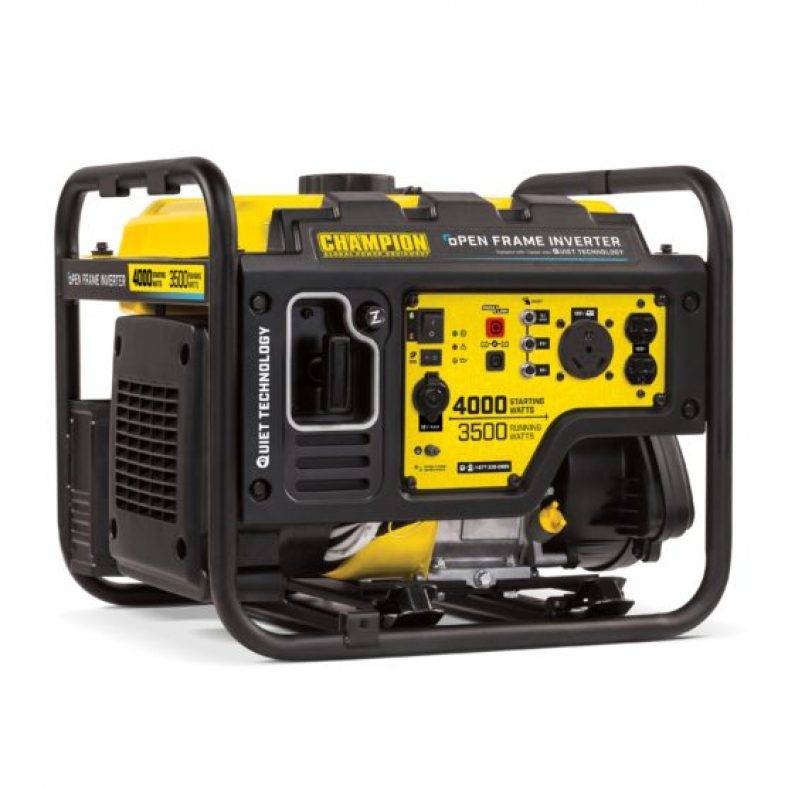 Champion Power Equipment 100302 offers the type of modern technology you'd expect in a portable generator; it's, however, not a dual fuel generator.
Please note that the term "hybrid generator" (that the machine's manufacturer uses) likely refers to the fact that the generator looks similar to other standard generators. The machine comes in a steel frame and isn't enclosed like most inverter generators.
Unlike many modern generators, the Champion Power Equipment 100302 is not designed with sound insulation. Champion's 100302's main strength is the special inverter. With it, the user gets clean power with low HD; this minimizes harm to your electronic equipment.
Champion's Smart Throttle Feature
Champion generator has sophisticated electronic controls that enable the smart-throttle (or eco-mode). The smart throttle generally controls harmful engine revs.
The smart throttle mechanism works this way: When there's low demand, the throttle slows the engine's RPM; it speeds the RPM when the demand is higher.  Overall, this feature can help lower the generator's operational costs.
Yes, less fuel spent means lower maintenance costs.
A-iPower SUA2000iV 2000 – Cheapest Quiet Generator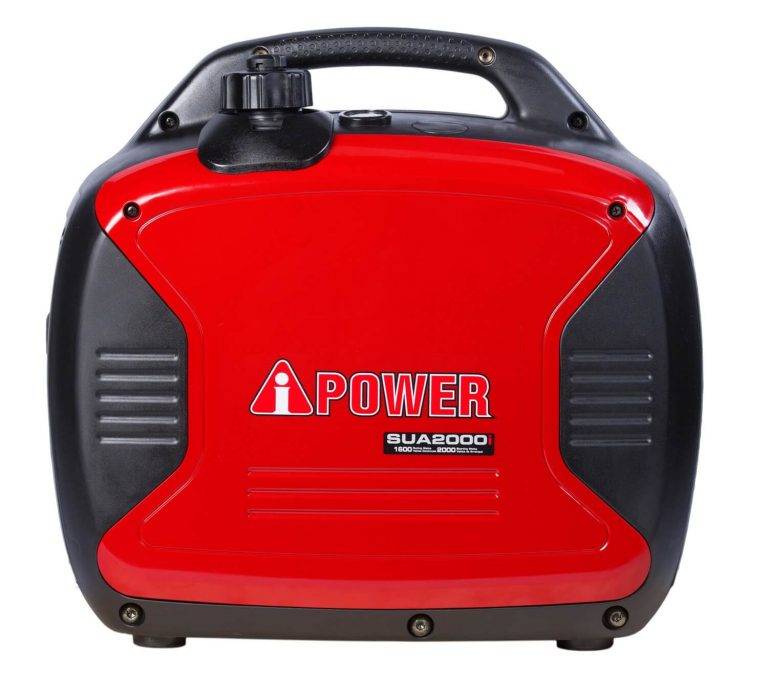 At first, you might mistake the a-iPower SUA2000iV for another ordinary quiet inverter generator. Well, the product's molded plastic cover works well for a lightweight sound-insulated machine.
Doubtless, this is a good match for other modern generator brands.
But why is this generator's price relatively low? Simple answer: The a-iPower SUA 2000iV is a new brand trying to penetrate the US market- it must, therefore, start with a relatively low price.
Despite this, many consumers who've tried using the machine agree it's a high-quality brand that competes well with the best. Yes, overall, the a-iPower SUA2000iv appears to be a pretty nice deal, functional and affordable.
Champion Power Equipment 100263 3400-Watt – Quietest RV-Ready Generator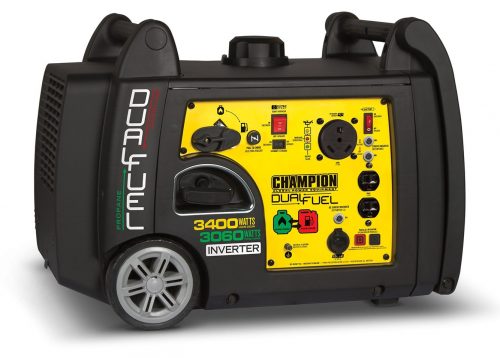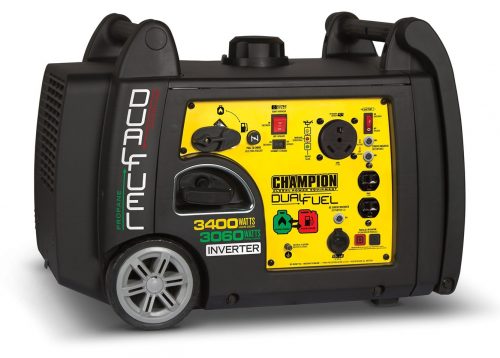 Champion Power Equipment 100263 3400 runs on propane gas or propane.  The dual inverter generator can muster 3,400-watts power output when the motor starts. You can run it the whole day at 3100 watts. When you use propane, you can get 3,060 starting watts; you can get 2,790 running watts.
The propane output is approximately 10% less than when it runs on gas; thus, you can power a 13,500 BTU unit using it. On the other hand, you can have enough power to power up your 15,000 BTU RV air conditioner using gas.
Further, you can get a 50-amp RV outlet with the Champion generator's optional parallel kit. The RV-ideal generator is designed with a TT30R (120 30A) outlet. Also, it features a pair of 120V 20A (5-20R) household outlets.
The inverter generator delivers clean power (- 3% THD); thus, you can safely plug items like the cellphone into any of its outlets.
Champion's USB Automotive Adapter
Champion Power is an easily portable generator with a built-in Volt Guard that protects devices from power surges or sudden voltage spikes. The inverter generator has an unregulated 12V DC outlet- regardless. Moreover, it has a USB automotive adapter that can charge various devices.
The machine may be used with a cable included with the battery-charging kit (you must disconnect the battery first). Also, make sure the accessory input voltage range isn't below 12-24V DC. Switch off the Economy Mode when using the DC outlet.
According to Champion's manufacturer, the generator can run for 7.5 hours at 25% load with a full gasoline tank. It can also run for 14.5 hours while on a 20lb. propane tank. Note that the generator might not power your air conditioner for a long time- these statistics merely point to the generator's potential fuel consumption levels.
WEN 56380i Super Quiet 3800-Watt Portable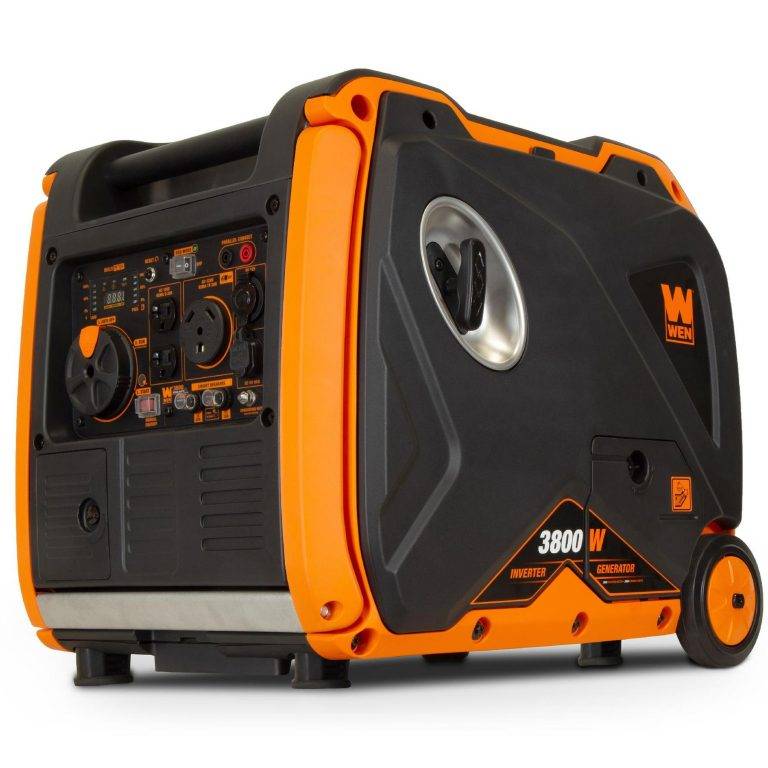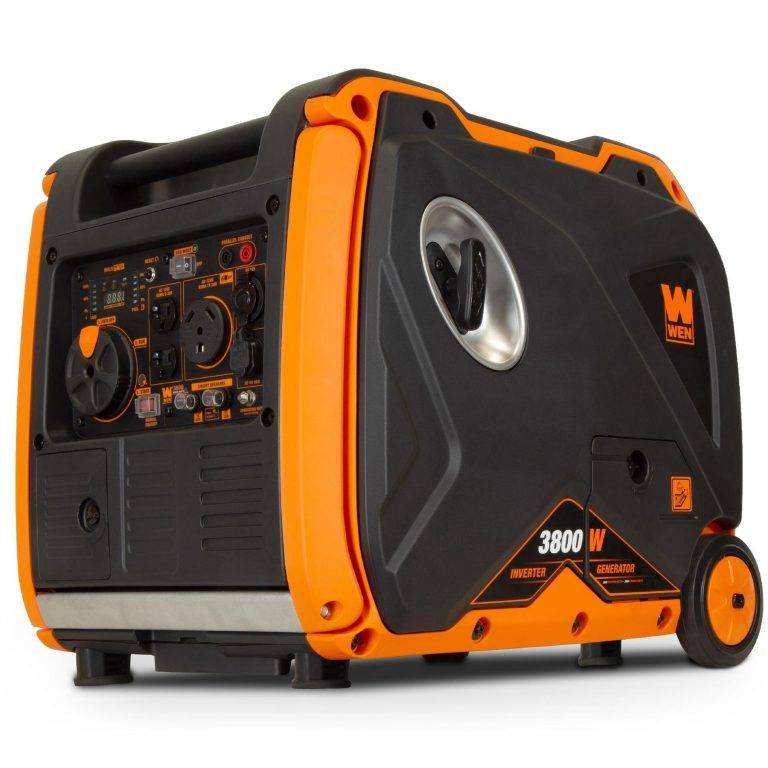 The WEN 56380i is yet another compact, super quiet inverter generator. It has a 3800W starting wattage and a 3400 rated wattage. It's a fantastic generator for RV travelers who seek greater independence. It's ideal for those who often participate in festivals, events, or outdoor fairs.
The WEN 56380i is popular with many amateur DIY lovers. Further, the generator can be used by homeowners seeking emergency backup power to run essential devices. Moreover, it's excellent for campground fans who love to enjoy power and run various devices on the go.
The generator has some exciting power characteristics, is quite portable, and is designed with plenty of extra features and emission compliance qualities. The 212 cc WEN OHV 4-stroke engine generally runs on gasoline.
This engine is the WEN 56308I'S primary strength.
Easy to Start, Easy to Carry
The generator has a 120 V output and provides a 3400W peak wattage and 3800W running wattage. Additionally, the machine is parallel-power enabled- it has a cable for this purpose. Note that the WEN 56421 parallel kit is not included when you purchase the machine- you have to acquire it separately.
Due to its parallel capacity, you can double your power needs by linking the WEN 56380i generator with a similar (compatible unit). The machine's noise rating is 57 DBA- this is quieter than the sound of falling rain. The inverter generator comes with the conventional pull-start mechanism.
It also features an easy-to-use electric starter, complete with a battery.
The WEN 56308i generator comes with a 2.2 gallon fuel capacity and can run continually for 8.5 hours, carrying a 50% load (with a full tank). The machine's fuel consumption rates at 0.26 GPH. Since it produces a clean sine wave (1.2 Total Harmonic Disruption). It means you can safely plug in the machine's AC outlets.
The WEN's control panel has 3 AC outlets, including Duplex 120V 20A (5-20R) I20V and 30A (TT-30R) receptacle. It also has 3 DC outlets; since it has a 12V 8A receptacle, it's quite easy to charge batteries.
The Travel Trailer- Ready WEN
Further, the generator has 2 5V USB ports; you can use these ports to charge your electronics conveniently (tablets and mobile phones). As noted, with its TT-30R receptacle, the WEN generator comes RV ready (TT means "Travel Trailer").
Like the other generators, the WEN 56380i is designed with an encased (L23.2 x W18x H20.1 in.) generator design. In many ways, it's aesthetically better than the traditional open frame generator. However, the generator is designed following modern trends; it's a perfect machine for people seeking recreational power.
As noted, you can carry the WEN 56380i generator wherever you travel. The generator's weight is merely 99.2 lbs. Overall, the machine is typically designed for ground use; it comes with a pair of wheels and an unfolding handle. The handle allows the user to move it effortlessly.
WEN's Amazing Digital Data Center
The WEN 56380i comes with a fantastic control panel. The panel helps the users to monitor its status and performance. The panel comes designed with a digital data center; this device provides the users with comprehensive information, including the generator's run hours, lifetime, power output, and voltage.
The WEN's featured light indicators are designed to inform the user whenever the generator is ready to start or when it's overloaded. The inverter generator is generally designed with a quick and convenient way to check its current gas level: It has a built-in fuel gauge.
Finally, the WEN 56380i comes designed with a circuit breaker (for overload protection). It has a low-oil shut-off mechanism that takes away the trouble from anyone using it.
| | | | | | |
| --- | --- | --- | --- | --- | --- |
| Product | Honda EU2200i | Generac GP3500iO | Generac 7129 GP3000i | Generac GP2500i Inverter | WEN 56203i |
| Noise Level | 57 dB(A) at rated load | 48 dB(A) at 1/4 load | 61 dB(A) at rated load | 60 dB(A) at rated load | 51 dB(A) at rated load |
| | 48 dB(A) at 1/4 load | | | | |
| Power | Starting 2200W | Starting 3500W | Starting 3000W | Starting 2500W | Starting 1700W |
| | Continuous 1800W | Continuous 3000W | Continuous 2300W | Continuous 2200W | Continuous 2000W |
| Fuel Type | Gasoline | Gasoline | Gasoline | Gasoline | Gasoline |
| Tank Capacity | 0.95 gal | 2.37 gal | 1.06 gal | 1.0 gal | 1.06 gal |
| Tank Run-Time | 3.2 hr at rated load 8.1 hrs at 1/4 load | 11 hrs at 1/4 load | 4.5 hrs at 1/2 load 5.8 hrs at 1/4 load | 8 hrs at 1/4 load | 10.8 hrs at 1/4 load |
| Warranty | 3 Year | 3 Year Limited | 3 Year Limited | 3 Year Limited | 3 Year Limited |
| Weight | 46.5 lb. | 74 lb. | 59.5 lb. | 48 lb. | 39 lb. |
| | | | | |
| --- | --- | --- | --- | --- |
| Product | Champion Power Equipment 100302 | A-iPower SUA2000iV | Champion Power Equipment 100263 | WEN 56380i |
| Noise Level | 64 dB(A) at rated load | 58 dB(A) at 1/4 load | 59 dB(A) at rated load | 57 dB(A) at rated load |
| Power | Starting 4000W | Starting 2000W | Starting 3400W | Starting 3800W |
| | Continuous 3500W | Continuous 1600W | Continuous 3100W | Continuous 3400W |
| Fuel Type | Gasoline | Gasoline | Gasoline | Gasoline |
| Tank Capacity | 2.9 gal | 1.5 gal | 1.6 gal | 2.2 gal |
| Tank Run-Time | 17 hrs at 1/4 load | 7 hrs at 1/2 load | 7.5 hrs at 1/4 load | 8.5 hrs at full load |
| Warranty | 3 Year Limited | 2 Year Limited | 2 Year Limited | 3 Year |
| Weight | 46 lb. | 46 lb. | 95.7 lb. | 99.2 lb. |
Final Thoughts
Want to pick the best quietest generator for convenient home or recreational use? We highly recommend the Honda EU2200i as the best quiet generator overall; yes, this Honda model is probably the best in 2021.
Ultimately, the choice is yours!
FAQ
How loud are Quiet Portable Generator
Last Updated on August 17, 2022
As previously hinted, quiet generators operate at between 50-65 dBA or lower. Mark you, this is quieter than the noise produced by a running refrigerator or an air conditioner. Common sense dictates that the further away a generator is placed, the lower the amount of sound received.
Additionally, popular units of 1000-2000w inverter generator types are no louder than the average sound produced by human speech (50-60 dBA). Significantly, modern manufacturers tend to include noise data levels in the machines.
Before buying a generator, you should check whether this is available in your targeted unit. The sound range covered usually is between full-rated load and a-quarter-rated load. Here's an essential point: When making your selection, ensure you base your evaluation at full-rated load, the stage when the generator is at its loudest. Also important to establish is what actually produces the noise in a typical generator unit.
Where Does the Generator Noise Come From?
Last Updated on August 17, 2022
Several factors are responsible for the noise emanating from your generator. First, the generator motor usually creates heat and sound. That's why it needs a cooling system to stabilize. A stand-by generator can either be air-cooled or liquid cooled.
Additionally, a reciprocating engine-powered generator normally produces noise and vibration that is unwelcome. Moreover, what we usually forget is that a generator unit is composed of an electrical generator and an engine. The engine segment is often taken for granted yet it's the main source of noise. Remember, a noisy generator generally produces somewhere between 80-100 or more decibels.
Other causes of generator-induced noise include:
Effect of forces of combustion and mechanics.
Current- fluctuations in alternator windings. This causes mechanical noise.
Various parts of engine components vibrate and radiate as sound.
The engine-block and exhaust system are the main source of portable generator noise
What Exactly Does An Inverter Do, and How Does It Work?
Last Updated on August 17, 2022
All modern inverter generators work quite the same way, in a basic sense; they work based on the principle of electromagnetic induction. Michael Faraday, reputed by many to be the "father of electricity", discovered this principle of electromagnetic induction in 1831. He observed that when an electrical conductor (any material that can conduct electricity like a metal rod or wire) is moved around within a magnetic field, electrical pressure is created between the two ends of the conductor. If you connect an ammeter to the conductor, you'd observe a current flowing through the conductor.
Generators can be either of two types: AC or DC. AC refers to alternating current while DC stands for direct current. Inverters convert DC power into AC power. Simple, isn't it? Well, maybe not as simple as it looks. There are a bunch of inverters that work in different ways. Some output AC current in square wave form while others output modified sinusoidal wave signals. The ones you need to concern yourself with are the inverters that output pure sinusoidal wave AC power. That's where inverter generators have an edge. Inverters don't simply modify the signal, they also make it cleaner.
Clean current? What's that?
Last Updated on August 17, 2022
You see, the power company supplies power to your home in the form of pure sinusoidal AC waves. IF you're familiar with sine waves, you know they're curved lines that rise and fall on a time axis. Square waves, on the other hand, are square-shaped signals that rise and fall abruptly, sometimes damaging sensitive electronic circuits in the process, making them operate at higher temperatures than their specified operating range. Inverters 'invert' the input signal, and then superimpose the inverted signal on the original output by shifting the phase. Too technical for you? Don't bother your head about it. Let's move on.
An inverter generator basically consists of a simple AC generator, a rectifier, and an inverter circuit. The alternator gives out 3-phase AC power that the rectifier converts to DC. The resulting DC power is then passed through the inverter, where it is cleaned up and then converted to single-phase AC at a specific output voltage. The final output is a stable, pure sinusoidal AC current you can use to power your regular home appliances – your TV, stereo, air conditioners, etc.
Any modern electronic appliance designed to run on sinusoidal AC will only display peak performance when it is supplied with stable, clean AC power. An inverter generator gives you electricity similar to the one you get from the power company. Inversely, the power output from a conventional generator is best described as low quality, consisting of square wave signals, which is dangerous for delicate electronic appliances. It'll heat up your laptop, phone, home theatre, and other equipment and appliances, and cause damage to any microprocessor-based low-voltage system with prolonged use. This is usually most evident when you power speakers with your conventional generator – you'll notice the degradation in sound quality output. It may be barely noticeable, but it will definitely be there.
When would it be better to use an Inverter Generator instead of a Conventional Generator?
Last Updated on August 17, 2022
An inverter generator almost always trumps a conventional one when compared shoulder to shoulder. Unless you need a lot of power, an inverter generator would most likely be the way to go. It is quiet, stable and safe, and provides clean power in a highly efficient manner. Inverter generators are portable and easy to transport.
Here are some specific occasions and situations in which an inverter generator would obviously benefit you more than a conventional generator:
Camping: An inverter generator can give you adequate power supply and not be too noisy for other campers around.
RVing: Many camps have noise restrictions, especially at night, so you'll need a quiet power source.
If you're in a cabin or a boat, you'll possibly need to charge your phone or laptop. A noisy generator can be quite frustrating to listen to.
An inverter generator is a quiet and stable source of energy that can be useful in emergency situations to power some basic devices and appliances.
Are Propane Generators Generally More Eco-Friendly?
Last Updated on August 17, 2022
Well, environmentally-speaking, propane is more eco-friendly than fossil-based fuels. This is because using propane comes with fewer carbon emissions. Yes, it's definitely safer to use- a properly functioning LPG appliance. Why? It produces less carbon monoxide and other toxic fumes.
Be cautious, however; propane gas fumes are generally flammable and potentially explosive. Since some carbon monoxide is still produced during "incomplete combustion," propane generators should never be used indoors—just like all other types of gensets, they should be installed outdoors only- Never indoors.
Last Updated on August 17, 2022
Are you planning to visit a campground but there are no power outlets pre-installed in the venue for RV use? Take care! You will be in trouble if you don't carry along your portable generator for this occasion.
An RV-ready generator is a special generator that is fitted with an RV outlet for connecting a recreational vehicle (RV).
Can I Run Two Generators in Parallel?
Last Updated on August 17, 2022
Interestingly, the most loved, modern brands of portable generators also come with parallel function capability. What does this imply? It means that it is possible to make two units of this generator to run together, as a twin unit. In this way, the units can supply two times the amount of power that you would originally get.
How Far Away Does a Generator be From the House
Last Updated on August 17, 2022
The next pertinent question is: How far away from your house is considered to be a safe distance for a generator? The National Institute of Standards and the Centers for Disease Control and Prevention (CDC) have carried out research on this subject.
Initial results seem to indicate that if you were to locate your generator about 15 feet away from your home, this would still be considered as too close for safe operation. Moreover, you should also remember your neighbors. You should ensure your generator is kept at a reasonable, safe distance from their homes.
What Kind of Generator is the Best for Camping?
Last Updated on August 17, 2022
The best generator for camping should be an inverter generator. Why? An inverter generator provides clean power, is lightweight, quiet and comes with ordinary outlets (110v) for charging your laptops, cameras, all camping gear and phones.
Obviously, no one uses a microwave or an air conditioner in a tent. Regardless, many people will still use fans, laptops, heaters, and coffee machines in this kind of setting.