How to Choose the Best Generator for the Hurricane Season in 2022
Last Updated on July 5, 2022
The US is currently in the midst of the disturbing hurricane season. Indeed, it's likely that in the next few months, there might be more hurricanes coming our way.
Experts, however, expect the so-called hurricane season to end around November 30, 2022.
You Need a Hurricane Generator Now
Considering this, it's essential to know how to choose the best hurricane generator. This can help you to deal with the hurricane after-effects.
Hence, isn't it the right time to discuss how to pick an excellent generator?
Specifically, we'd like to focus on how you can choose heavy generators. These generally have enough power to carry you through the hurricane duration.
Ask yourself the following crucial questions:
Am I ready in case a hurricane struck near my neighborhood?
Do I have a plan?
This is the right time to consider the questions.
You know the weather can change quite quickly, catching you unawares. Keep in mind that predictions may only be accurate for a few days and not weeks.
How to Pick the Best Generators for the Hurricane Season
Here are our top picks for the 3 best hurricane generators in 2021:
Champion Power Equipment 100692 Portable Inverter Generator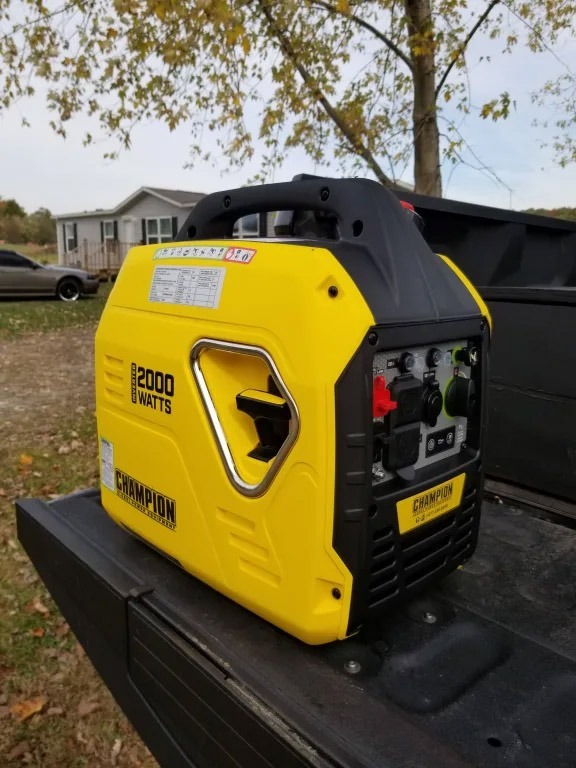 Champion 100692 is a super quiet, compact, and lightweight inverter generator. The machine has a 2000W starting wattage and 1700W rated wattage.
This is among the lightest generators on the market. You're always safe with it- it makes portable power more accessible than ever.
Since it's ultralight, this is the best generator for those who have to run just the sump pump. You can completely rely on the machine's 79cc engine- it's a quiet-operating 58 dBA machine that delivers a maximum of 11.5 hours run time.
Uses of the Champion 100692:
You can use this generator for campground events, tailgating, and power on the go. It's also useful for handicraft enthusiasts on the go.
Power and Runtime
The gasoline-powered Champion 100692 has an OHV 4-stroke engine. It has a 120V output. This is a parallel-cable machine that can be linked to another unit to produce more power.
With it, you can enjoy a 53Dba noise rating; this is just a little noisier than the sound of rainfall. The inverter generator runs with a pull-start mechanism. When the tank is full, it can work for 11.5 hours with a 0.1 GPH fuel consumption. The fuel capacity is about 1.1 gallons.
Champion 100692 produces a clean sine wave with a <3% Total Harmonic Disruption (THD). You can plug in your sensitive electronics in the device's AC outlets.
Outlets
The machine's control panel has 2 upcoming AC outlets; it has a Duplex 120V 20A (5-20R) outlet and provides a 1 DC outlet. Also, it has a 120 8A receptacle (cigarette lighter style). You can use this to charge your batteries easily.
Portability
Champion 100692 has an encased design measuring L17.3 x W11.5 x H17.7 in. Overall, its aesthetics are superior to conventional, open-frame generators. It's a convenient, modern way to generate recreational power. It weighs 39.5 lbs. Its molded in-case is suitable for portability.
Features
The Champion 100692's control panel has several light indicators; they show you when the machine is ready and when the oil levels are sufficient. It has an overload protection (circuit breaker) and an automatic low-shut-off mechanism. It also comes with a dual-port USB adapter, a funnel, and battery charging cables.
Emissions
Champion 100692 is CARB compliant and EPA-approved; you can purchase or sell the product in all 50 states (including California). Since it has a spark arrestor, you can use it in forested areas.
Special Note:
If there's a power outage after a hurricane, you can be sure Champion Power Equipment 100692 is excellent for all your power needs.
Westinghouse WGen7500 – Excellent choice for Home Backup Power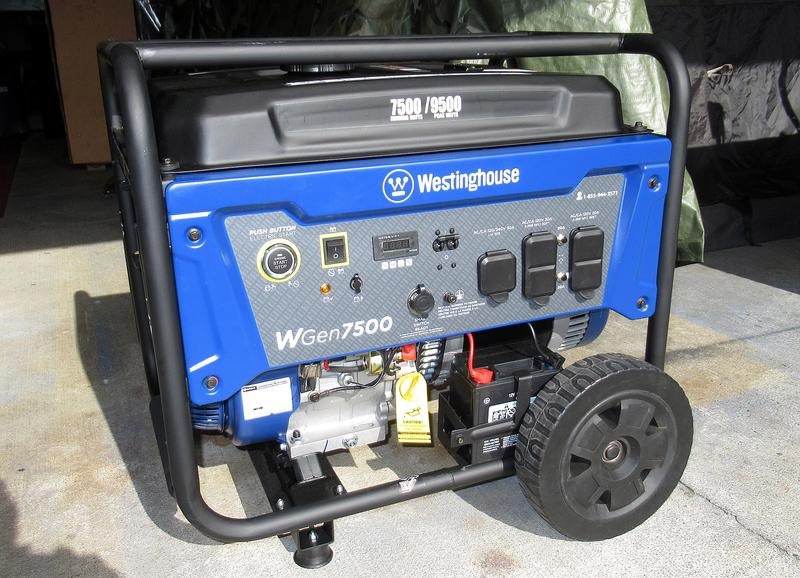 Do you want to back up your entire home? Go for the gasoline-powered Westinghouse WGen7500. This portable open frame generator has a 9500 starting wattage and 7500 W starting wattage.
The following will find the machine helpful:
Food truck owners (who want to preserve their food)
Homeowners who seek to use the necessary devices during a blackout
Professionals who need to work regardless of a power failure
The generator has an OHV 4-stroke engine. It has a 120/240v output with a 7500w running wattage and 9500w peak wattage. It has a conventional pull-start system and an easy-to-use electric starter with a battery.
The noise level is 73dBA (a little louder than the sound of a vacuum cleaner). The machine has an optional remote start feature. The full tank holds 6.6 gallons; it can run for a maximum of 16 hours with a 0.41 GPH fuel consumption.
Note: The Westinghouse WGen7500 a 23% THD level- this is relatively high. Thus it's inadvisable to use it with sensitive electronics.
The machine comes transfer-switch ready; when connected to a breaker box, you can use it to power your household during an outage.
Portability
The Westinghouse WGen7500 is an open-frame generator that should be easy to raise off the ground. But you cannot do it manually unless you use its folding handle and wheel kit.
Features
The WGen7500's control panel has a meter that indicates the voltage, frequency, and lifetime hours. You can easily monitor its activity and status. The machine has a built-in fuel gauge that facilitates a convenient check of the generator's fuel level.
Emissions
The Westinghouse WGen7500 is both CARB and EPA approved. You can sell or purchase it in 50 states, including California. The presence of a spark arrestor means you can use it in forested areas.
Special Note:
In case of a power outage after a hurricane, you can be sure the WGen7500 will prove to be an excellent generator for all your power needs.                                   
The WEN 56380i – Excellent, Super-Quiet Generator For a Power Outage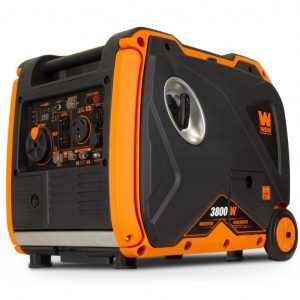 The WEN 56380i is well-known as a quiet, compact inverter generator. It has a 3800W starting wattage and a 3400W rated wattage.
Power & Run Time
The WEN 56380i runs on a WEN OHV 4-stroke gasoline engine. Its power output is 120v- the machine is parallel cabled. Note that the WEN 56421 parallel kit isn't included. The machines' power can be doubled when paired with a compatible unit.
The noise level (quieter than rainfall) is around 57dBA. It has a conventional pull-start mechanism and an electric starter (the battery is included).
The machine has a 2.2-gallon fuel capacity and can run for 8.5 hours with a 50% load. The fuel consumption is about 0.26 GPH.
With a 1.2% THD, you can safely plug in your sensitive electronics.
Portability
The WEN 56421 Parallel kit is easily portable. It's also RV-ready since it has a TT-30R receptacle.
Emissions
The WEN 56421 Parallel kit is both EPA and CARB compliant. You can buy or sell it in 50 states, including California. It has a spark arrestor and is suitable for use in forested areas.
Yes, in case of a power outage after a hurricane, you can be sure the   WEN5630i is another excellent generator for your power needs.
How to Prepare in Advance for a Hurricane (Your Guide)
Do your hurricane checks regularly, promptly, before the storm comes.
Here's your essential pre-hurricane checklist.
Your Safety First:  Have an emergency stock for the home and the car. Have flashlights, batteries (for the home and your car). Have your jumper cables, emergency food, and sleeping bags.
Do you have the emergency first aid kit ready? Ensure no medication is close to the expiry date. Have a fire extinguisher (ensure it's well-serviced). Where is the nearest hurricane shelter? Find out. Plan your emergency evacuation route. Have all emergency phone numbers accessible.
Food Supply: Do you have enough non-perishable food (canned goods, or dehydrated food, for example)? Have a minimum of 3 days food supply for the family and pets- 2 weeks is best. Have food that requires little water or heating.
Fresh water: Fill your bathtub and containers with water. Have 1 gallon of cleaning drinking water per person for each day. ( minimum 3 days. 2 weeks is best)
Fuel, Power, and Heat: Carry an emergency generator. Have a battery or cell-powered battery for keeping tabs on the weather. Is the generator working well? Find out. Fill your car with gas. Keep emergency gas somewhere. Fully charge all batteries- ensure they're working.
Protect your Home: Secure your windows with shutters or nailing boards; cover all windows and exterior doors. Is your CO detector working? Check. Be ready to shut off the electricity and gas supply.
Where Should You Keep the Generator During the Storm?
During a storm, you should note the following crucial points:
Don't run inside a closed garage or the house- the fumes may lead to quick carbon monoxide poisoning. Always put your generator at least 20ft from your home (keep it away from the windows and doors.
Don't use the generator in the rain: You can buy some generator tents at the hardware stores if you do not have a garage.
Have a Stock of Extra Gasoline: Have plenty of fuel on standby for running the generator for a long time if need be.
Turn off the Generator; Allow it to Cool- Do this before refueling. Note that an accidental spillage of gasoline on the hot engine can cause a fire.
Never Try to BackFeed: Backfeeding is the act of attempting to power the home by plugging your generator into an outlet with extra tools (it can cause electrocution!)
Never Overload the Generator: Note that a generator cannot run the entire home. Just keep the fridge and a few outlets on the generator at a time.
Conclusion
The hurricane season is here again. Don't you agree that your choice of the generator can secure your family and save lives? Use the suggestions discussed here to pick the best generator for the hurricane season.